Tiger Football is a tradition that dates back to at least 1951—and today, our community continues to rally around our players and coaches as they challenge other regional schools in the Tri-Eastern Conference.
Meet the Coach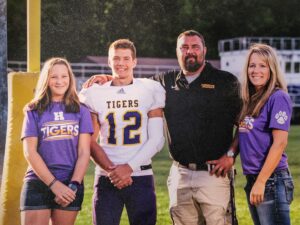 Scott Snodgrass
Head Coach
ssnodgrass@nettlecreek.k12.in.us
Coach Snodgrass was named Head Football Coach for the Hagerstown Tigers in 2011, and he became the Athletic Director for the district in 2018. Coach Snodgrass and his wife Angela moved to the Nettle Creek School District in 2013 along with their two children, Noah and Emma.
Coach Snodgrass is a graduate of the University of Indianapolis, where he was a four-year starter in football and was named All-Conference during his senior season. Since leaving UIndy, he has served as a head wrestling coach (five years) and has coached football for 23 years, 18 of which he's been a head football coach.
During his time at Hagerstown, the Tigers have won four conference championships and made three sectional final appearances. Coach Snodgrass has also been named Conference Coach of the Year three times.
Under Coach Snodgrass, Hagerstown's offense has broken four all-time career records, including:
Rushing: Owen Golliher, 2017 – 3,784 yards
Rushing: Mason Hicks, 2018 – 4,390 yards
Career Scoring: Owen Golliher, 2017 – 664 points
Career Passing: Owen Golliher, 2017 – 5,153 yards
Since 2011, the Hagerstown football program has produced:
18 IFCA All-State Football Players
9 IFCA Region 8 All-Star Players
14 IFCA Academic All-State Football Players