Few sports match tennis in the combination of skills it requires of its players—including hand-eye coordination, endurance, composure, and grit. At Hagerstown, our tennis program has a proud tradition of producing high-achieving student-athletes who demonstrate excellence both on and off the court.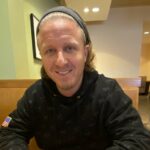 Chris Robertson
Head Coach
jc_robertson@hotmail.com
Coach Robertson is a proud Hagerstown graduate from the class of 2000. He has served as the Head Coach for both Boys and Girls Tennis for a combined 16 seasons.
During his own time as a Tiger student-athlete, Coach Robertson played on the All-State Tennis Team in 1999 and 2000. He then attended Northern Kentucky University and played on the All Great Lakes Valley Conference Team in 2001.
As the Head Coach for Hagerstown Tennis, Coach Robertson led the Tigers to back-to-back sectional titles for Boys Tennis in 2008 and 2009.
Whitney Robertson
Assistant Coach
Chris Diercks
Assistant Coach