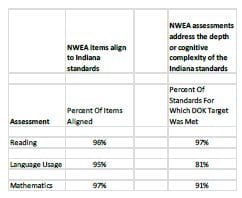 Why Do We Use NWEA Assessments?
We came across this information recently that is a good reminder why NCSC uses NWEA. With ISTEP+ on its way out and ILearn coming eventually, NWEA scores allow teachers and their students to reliably check up on their progress in learning material the State says is mandatory.
Please help students get the most out of what their NWEA scores will tell them about their learning. School assessments are only the beginning of the tests they will meet after graduation regardless of whether they are headed to college, the military or the world of work!
---