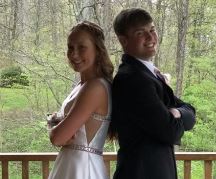 This Year's Prom Was Special!
We send a tip of the Tiger's tail to Ms. Overfield and Ms. Oliger for organizing a memorable Prom 2019 for junior and senior students. It's amazing what they got done with imagination and a lot of sweat equity that transformed the high school cafeteria and auxiliary gym into a wonderland for the Classes of '19 & '20. We understand that an old tradition returned that allowed families to attend the initial activity which was incredibly well-attended by moms, dads and grandparents plus more.
Students were dressed to the nines and had an opportunity to walk as couples (and triples) among family members in the auxiliary gym who were snapping photos to record this special moment in time. Afterward, parents departed, and students entered the area next door where their dance was held.
Thanks to Mr. Tyner and Ms. Schaeffer, who looked mighty spiffy, too, and to all of the Jr./Sr. high school staff who attended and helped all along the way to make the evening a memorable success! And thanks, Ms. Swimm, for sharing a photo of two of the event's attendees!
---