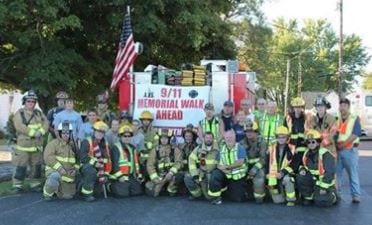 Thank You Hagerstown First Responders!
Phaedrus had it right! "Things are not always as they seem; the first appearance deceives many." Lord knows it's easy to fall into this trap with only part of the facts! Such was the case this morning when I came in to write this month's Parent & Community Newsletter. When I rounded the corner onto North Sycamore I was surprised by the sight of emergency personnel and their vehicles parked in the elementary school parking lot. My mind raced down the Emergency Procedure Checklist described in the HES School Safety Plan that everyone connected to the school knows by heart. Thankfully, it was Sunday which takes 'Evacuation of Students and Staff' off the top of the list of things to do.
Firemen were headed into the gym doors as I parked my car and jogged across the street to find out what was happening. Chief Cole was just leaving the building, and remaining calm (Rule #1 in the safety plan), I asked him what was up? He explained that Nettle Creek fire crews just completed their annual walk to remember those who died in the 9/11 attacks in New York City, and that they moved the activities planned to follow their walk into the gym because of the weather. I breathed a deep sigh of relief and started to smile as I entered the gym and saw school kids enjoying a bounce house and many people I know visiting with our community's awesome First Responders who went out on a dreary Sunday morning this morning to remember the sacrifice of fellow brave First Responders back in 2001.
---