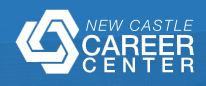 Good News From The Career Center!
Do you know that NCSC is a partner with the New Castle Career Center? Nettle Creek School Corporation is committed to assuring every student that they will be prepared for what they choose will come next for themselves after graduation. Typically, most of our graduates pursue the pathway that leads to higher education. A significant number of our students choose to enter the world of work instead, and we need them to be equally prepared for this choice as well.
As a result, several small school corporations, including NCSC have come together with New Castle Community Schools to offer high school classes that cover a broad range of career education. Some of the most popular Career Center programs for NCSC students are Health Occupations, Building Trades, Culinary Arts and Graphic Design. Students can earn industry certifications that prospective employers find very attractive when they are making hiring decisions.
Chris Lamb, Director of the NCCC, has sent word that Henry County's Redevelopment Commission approved a three-year annual contribution of $30,000 to the New Castle Career Center. "This support will allow the program to purchase additional equipment to help train students and enhance the skills of the area's workforce."
If you are a local business person who would like to add your support to our students through the Career Center, you can contact Mr. Lamb at 765.521.7402 Thank you!
---