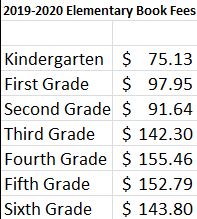 2019-2020 Registration Days Are Set!
Parents, please mark your calendars for the 2019-2020 Nettle Creek School Registration Days. Registration will occur at both buildings on Tuesday, July 23rd from 8:00A.M. to 3:00P.M. and on Wednesday, July 24th from 11:00A.M. to 7:00P.M.
Please bring a copy of your child's birth certificate and shot record when you register. Book fees will be collected during registration. Elementary book fees are as indicated at the right. Jr./Sr. high student class schedules will be available at registration. Book fees vary at the Jr./Sr. high based on a student's course list.
---