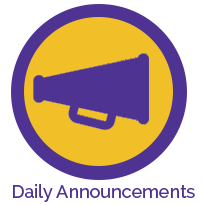 Wednesday, October 4, 2017
Wednesday, October 4, 2017
Today is a Purple Day.
Thank you—NHS would like to thank those students and teachers who helped support our local veterans by donating items to the hygiene drive. Congratulations go out to Mrs. Drake's Tiger Time for collecting over 240 total items. We appreciate all of those who donated. Mrs. Drake's class will be rewarded with Donuts this Thursday!!!!
BPA Callout—All students interested in BPA! There will be a callout this Thursday, Oct. 5, in room 107 during Tiger Time.
Volunteer Opportunities—Cope Environmental Center is hosting a Volunteer Fair on TODAY, Wednesday, October 4, from 1:00 pm to 6:00 pm.  Fifteen organizations like Richmond Parks Department, Amigos, Girls Inc., HELP Shelter, Sprout Control, Liberty 4-H, and the Salvation Army will be among some of the organizations present that are currently looking for volunteers.
FCCLA—FCCLA Members and anyone interested in becoming a member, here is a great opportunity to potentially meet other FCCLA members from Randolph, Delaware, Henry, Union, and Fayette counties.
We will have our District Meeting on October 17th. We will leave HHS around 3:30pm and return around 8pm.  The meeting runs from 4:30-7:00 and will include Step One for state recognition, community service project, nutritious snacking, dinner, and a speaker from the Farmland Conservation Club.  Cost is $6.  Please see Mrs. Hobson for a permission slip.  Slips are due by Friday, October 6th.
If you have not signed up, it is not too late!
Senior Information:
Ivy Tech Open House—Please see the flyer at the end of the announcements.  This event is TODAY!!!!
Athletic Results
HS Volleyball
The Varsity Volleyball Team defeated Union County last night 25-19, 25-13, 25-15.  Beth Jenkins had 28 assists and Regan Tinkle had 11 kills to lead the offensive attack.  Taylor Kelley & Alexis Ellis each put up 4 big blocks to stop Union County's best hitter.  Varsity is 29-1 (6-0 TEC).
The JV Volleyball Team also defeated Union County 25-16, 25-18.  Ashley Vinson had 14 points, Makayla Matanich had 6 kills, Makynna Matanich had 6 kills and 9 points, including 4 aces, Kenzie Slagle had 10 assists and 8 points, & Hallie Rogers had 8 kills.  JV is 19-1 (6-0 TEC).
LAST HOME MATCH!!  The HS Volleyball teams will have their final regular season matches tomorrownight at HOME vs Centerville.  A win will clinch the TEC Title!
Lunch—Follow the link
http://nettlecreekschools.nutrislice.com/
Have a great day!
---