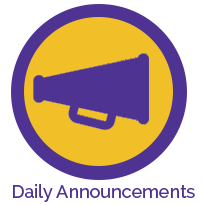 Wednesday, November 8, 2017
Wednesday, November 8, 2017
Today is a Purple Day.
Relax & Read in the Library: Congratulations to Darcy Presley and Mr. Drake's Tiger Time. They have the opportunity to Relax & Read in the library today.
Football Equipment Turn In—Equipment turn in will be TODAY, Wednesday, after school at the locker room, shoulder pads and helmets need wiped down and all cloth clothing needs to be washed before it is turned in.
Fall Sports Program—TONIGHT, WEDNESDAY, November 8 at 7pm the Fall Sports Awards Program will be held in the Auditorium. If you played a Fall sport you are expected to attend. If you have any questions you can contact your coach or stop in the front office.
10th Graders—Reminder that you will be going to the New Castle Career Center tomorrow morning.  Please report to Block 1 and you will be released by PA.
Are you the TRAITOR? Find out in the library during Tiger Time on Tuesday and Thursday. This is just one of the games available to play in the library during Tiger Time this week. Other games include Exploding Kittens, Love Letter, Zombie Dice, Left/Right/Center, Trophy Buck, Fluxx, and Bring Your Own Book. Stop in the library to get your pass to play.
NHS—There will be an NHS meeting on Wednesday, November 15th at 7:30 pm in Mrs. Van Meter's room. All members should attend and may bring dues that evening.
Senior Information:
Transcript Review—Seniors, if you have taken a dual credit course and earned the credit, we will have Ivy Tech representatives here Friday to do a transcript review with you. It is imperative that you meet with them while they are here. They will go through your transcript with you and for some of you explain how close you are to earning the Statewide Transfer General Education Core certificate that will follow you to college. Mrs. Oliger has them coming on a Friday so that you can go to the front office during your study halls.  If you do not have a study hall, please attempt to get down here before or after vocational.
Athletic Results
Nothing to report
Lunch—Follow the link
http://nettlecreekschools.nutrislice.com/
Have a great day!
---