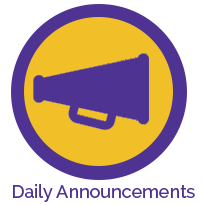 Wednesday, November 29, 2017
Wednesday, November 29, 2017
Today is a Purple Day.
Attention Students—Reminder no food and/or drinks in North Lobby or Gyms during lunch.  You should not take food and/or drinks passed the drinking fountains.
Relax & Read in the Library: Congratulations to Darcy Presley and Mr. Drake's Tiger Time. They have the opportunity to Relax & Read in the library today.
Vocational Applications—The vocational applications are ready for you to pick them up in the front office. They are light purple in color and you must use this packet. Please know that they will be due back to me no later than February 9. The vocational teachers will begin interviewing once they have your completed application after winter break.
BPA—BPA meeting for all members competing at the RLC on Thursday, November 30 in room 107 at Tiger Time.
Senior Information:
New Scholarship Posted—Knights of Pythias – Grand Domain of Indiana Educational Assistance Program – added 11/28/17 – due 1/25/18. See PDF for requirements and application
Athletic Results
Nothing to report.
Lunch—Follow the link
http://nettlecreekschools.nutrislice.com/
Have a great day!
---