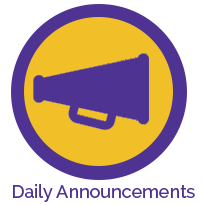 Wednesday, August 9, 2017
Wednesday, August 9, 2017
Good morning! Welcome to the 2017-2018 school year.
Today's Schedule:
TIGER DAY
Admit Bell 7:50
Block P1: 8:00-8:40
Block G1: 8:45-9:25
Block P2: 9:30-10:10
Block G2: 10:15-10:55
Block P3: 11:00-12:35
Lunch A 11:00-11:30
Lunch B 11:30-12:00
Lunch C 12:00-12:30
Block G3: 12:40-1:20
Block P4: 1:25-2:05
Block G4: 2:10-3:00
Congratulations to Hagerstown Golden Tiger Marching Band at the State Fair—8th place!!!!!
Peer Helpers—Any student interested in becoming a peer helper needs to stop by Mrs. Van Meter's room to grab a form.
Grades 9-12—The High School Volleyball teams are looking for responsible students interested in managing. See Coach Swimm in Rm 214 if you are interested or have questions.
The 2016-2017 Epitome will be distributed during Tiger Time on Friday in the cafeteria. If you have purchased a book, you will receive a pass tomorrow that will excuse you from Tiger Time. 2016-2017 books may be purchased from Mrs. Overfield for $50. Students interested in purchasing a book need to email Mrs. Overfield for a pass to purchase the book on Friday during Tiger Time. Orders are being taken for the 2017-2018 book at a cost of $45. The price will increase to $50 beginning January 1st. If you have any questions, please see Mrs. Overfield.
Please see the table below for lunches.
PURPLE & TIGER DAY GOLD DAY
A Lunch
Mr. Hamilton
Mr. Meek
Mr. Oliger
Ms. Schaeffer
Mr. Schmittler
Ms. Swimm
Ms. York
B Lunch
Mr. Craig
Mr. Gray
Ms. Hendrickson
Mr. Lester
Ms. Ramer
Ms. VanMeter
Mr. Williamson
C Lunch
Mr. Bullock
Ms. Drake
Mr. Drake
Mr. O'Haver
Ms. Overfield
Mr. Sloniker
Mr. Snodgrass
The lines are different this year for lunch. The line closest to the gym will be serving sandwiches and pizza and the line closest to the teacher's dining room will serve full meals.
Have a great day!
---