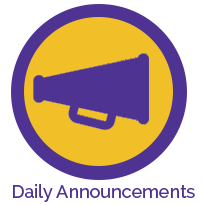 Tuesday, October 24, 2017
Tuesday, October 24, 2017
Today is a Gold Day.
Softball—Softball callout meeting TODAY, Tuesday, October 24, 2017, after school in the cafeteria.
Seniors—Tomorrow, October 25, while the 10th and 11th grade students are taking the PSAT, you will all be in the auditorium for JA (Junior Achievement) Day.  This program has you going through many different sessions where your creativity and problem-solving abilities will be put to the test.  Here are the sessions you will be taking:
Get Hired – Critical Thinking and Creativity
Get Hired – Communication and Conflict-Management Skills
Get Hired – Collaboration and Creativity
Get Hired – Strong Soft Skills
Get Hired – Know your work Priorities
Get Hired – Know Who's Hiring
Get Hired – Know your Personal Brand
For our vocational students, you will attend the sessions while you are here. You may attend vocational as normal.
ATTENTION ALL ARCHERS—Archery practice will begin on Thursday, October 26 at 6:30 am in the junior high gym.
Variety Show—If you are interested in being in the Variety Show, please meet in Mrs. Overfield's room during Tiger Time Thursday, October 26th. She will be passing out information at that time.
Athletic Physicals—If you plan to participate in a winter sport, you must have a physical on file in the athletic office.  If you need a packet, they are available in the front office.  You will not be allowed to participate until the packet is entirely completed.  Please see Ms. Robinson if you have any questions.
Senior Information:
Nothing to report
Athletic Results
Nothing to report
Lunch—Follow the link
http://nettlecreekschools.nutrislice.com/
Have a great day!
---