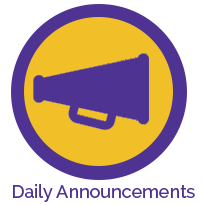 Tuesday, October 17, 2017
Tuesday, October 17, 2017
Today is a Gold Day.
Picture Retakes—Picture retakes will be this Friday.  If you did not get your picture taken you MUST get your picture take.
Senior Orders—Clark School Services will be in the North Lobby this Friday to take orders for senior items.  If you have any questions, please see Mr. Oliger or Mr. Kindt.
Academic Team Call Out—On Thursday during Tiger Time there will be a call out for anyone interested in joining the HHS Academic Team for the 2018 season. We will be looking for anyone in grades 9-12 who like to receive more information about joining the Math, Science, English, Fine Arts, and Social Studies Teams. Please come to Room 225 to hear about the program, ask questions, and receive information about the upcoming season. Hope to see you there, Coach Meek
Athletic Physicals—If you plan to participate in a winter sport, you must have a physical on file in the athletic office.  If you need a packet, they are available in the front office.  You will not be allowed to participate until the packet is entirely completed.  Please see Ms. Robinson if you have any questions.
BPA—If you missed the callout meeting, please see Mr.Kindt for information.  If you are interested in being an officer, please see him for an application.
Senior Information:
Nothing to report
Athletic Results
Sectional Football Game Time Change—The game will begin at 7:30 on Friday instead of 7:00.
Lunch—Follow the link
http://nettlecreekschools.nutrislice.com/
Have a great day!
---