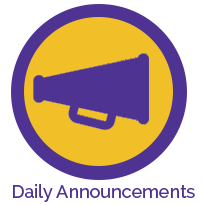 Tuesday, November 7, 2017
Tuesday, November 7, 2017
Today is a Gold Day.
7th Grade Girls Basketball Call Out—A call out meeting will be held TODAY, Tuesday, during Tiger Time in the cafeteria for any girl interested in playing on the 7th grade girls basketball team.  Please sign out with your Tiger Time teacher after attendance is taken.
Math Academic Team—The Math Academic Team will be meeting in Mr. Oliger's room today during Tiger Time.  We will be passing out the information for this year's competition.
Football Equipment Turn In—Equipment turn in will be Wednesday after school at the locker room, shoulder pads and helmets need wiped down and all cloth clothing needs to be washed before it is turned in.
Are you the TRAITOR? Find out in the library during Tiger Time on Tuesday and Thursday. This is just one of the games available to play in the library during Tiger Time this week. Other games include Exploding Kittens, Love Letter, Zombie Dice, Left/Right/Center, Trophy Buck, Fluxx, and Bring Your Own Book. Stop in the library to get your pass to play.
NHS—There will be an NHS meeting on Wednesday, November 15th at 7:30 pm in Mrs. Van Meter's room. All members should attend and may bring dues that evening.
Senior Information:
Continue to watch guidance page.
Athletic Results
Nothing to report
Lunch—Follow the link
http://nettlecreekschools.nutrislice.com/
Have a great day!
---