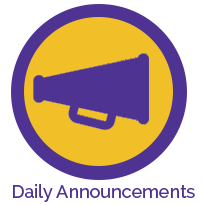 Tuesday, November 14, 2017
Tuesday, November 14, 2017
Today is a Gold Day.        Midterm TOMORROW
All Students—Hacky Sack is to played during lunch in the gym ONLY.  Hacky Sack is NOT to be played in the building after school including at practices and events in the building.
NHS—There will be an NHS meeting TOMORROW, Wednesday, from 730-8pm in Mrs. Van Meter's room. Enter through door 26. Dues of $15 may be paid at this time.
Science Academic Team—Science Academic team will meet TOMORROW, Wednesday, from 6-7 pm in Mrs. Van Meter's room. Enter Door 26.
FCCLA—FCCLA will be having a meeting during Tiger Time in the foods lab.  We will discuss upcoming events including the after-school meeting on Thursday from 3‑4. Anyone is welcome. Please bring an old t-shirt for our service project.  We will also discuss the fall district meeting where Howard Hobson was elected as District 9 President. If you are not a member, it is still not too late to join
BPA Members—All members who are participating in the RLC December 9 please stop by Mr. Kindt's room (107) to select the meal for RLC AND get your field trip permission slip for RLC.  If you need help with your events see Mr. Kindt, Mrs. Dennis, or Mr. Snodgrass. Remember it is just four weeks away!
Senior Information:
Nothing to report
Athletic Results
Nothing to report
Lunch—Follow the link
http://nettlecreekschools.nutrislice.com/
Have a great day!
---