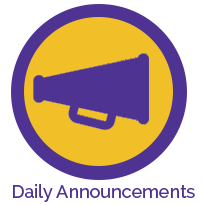 Tuesday, May 16, 2017
Basketball Floor—Anyone interested in signing the new gym floor can do so during your lunch period on Tuesday, May 16th.  You must wear shoes and you will sign between the blue tape where the lines will be painted.  Though your signature will not be seen you can be assured your name will be on the court for years to come
Seniors—Do not forget to get your baby/toddler and senior/current picture to Mr. Dawson by Wednesday, May 17 for the senior video.  Please refer to the email that he sent to you about Senior Salute being Tuesday, May 30 at 7:00 pm in the auditorium.
Seniors—On Thursday, May 18, ALL seniors will be going to the elementary in their caps and gowns. You will be parading through the elementary school. Here is what you need to know:
Bring caps and gowns into the front office. You will need to bring a hanger and plastic sack. The front office staff will help hang and package everything up. We will also have labels so that you do not lose your belongings.
At 12:30 on 5/18 you will be dismissed to the front hallway to get dressed.  We will load onto buses and go to the elementary school. When we return you will be able to hang everything back up so you can pick it up at the end of the day.
Vocational Students – you need to tell me if you want to participate in this activity so I can have you excused.
If you don't have a cap and gown see me ASAP!
Any questions, please ask Mrs. Oliger!
Track Athletes—As your competitive season ends, please return uniforms to Coach Gray ASAP.  This should be done before school dismisses for the summer.
Voluntary Choir—Voluntary choir will have after school rehearsal TODAY, Tuesday, ONLY this week and that rehearsal is subject to change due to the serious illness of Mrs. Cline's brother. Students can rehearse until 4:00 TODAY unless you hear otherwise from Mrs. Cline
Vocational Last Day—Mrs. Oliger has spoken with Mr. Lamb and the following is the plan for the last day at Vocational:
Seniors – your last day at Vocational is May 24.
Juniors – your last day at Vocational is May 25.
You should be in attendance every day.
Library Materials Due: All materials checked out from the library are due TODAY, Monday, May 15. If you have materials checked out, please get them returned.
The spring sports program for athletes and managers (grades 9 through 12) who are participating in girls tennis, boys golf, softball, track and baseball will be Wednesday, May 31st at 7:00 p.m. in the high school auditorium. All athletes and managers are expected to attend.
Sports Physicals—Any student who is currently in grades 7-11 who plans to participate in any school sport during the 2017-18 school year, must complete a new physical packet in its entirety. The entire packet must be completed, signed (by both student and parent/guardian) and on file in the athletic office at the high school before being allowed to practice, condition, participate in open gym or weight lifting.
Those students who have a current 2016-17 physical on file will be allowed to practice, condition, participate in open gym or weight lifting up until July 31st, 2017.  Beginning August 1, 2017, everyone participating must have the new, attached 2017-18 physical/packet on file before participating in any practice, conditioning, open gym or weight lifting.
Physicals for the 2017-18 school year must have taken place after April 1, 2017.  Physicals may be performed through your family doctor, walk in medical center, sports medicine facility, etc.
Scholarship Information
Seniors – nobody applied for the Keifer – Hull Sister City scholarship.  Mrs. Oliger will open it back up but the new deadline is TOMORROW, Wednesday, May 17 at 3 pm.  Please see the requirements below.  If you are interested in seeing last year's winning proposal, please ask and Mrs. Oliger will show you.
"C" or better gpa
Exhibit strong character both in and out of school
Use creativity to build a bridge between Hagerstown, MD and Hagerstown, IN (this bridge is figurative and not literal)
Again, please ask if you have any questions.
Athletic Results
Nothing to report
Lunch Today:
Chicken Strips, Baked Beans, Carrots and Fruit
Lunch Tomorrow:
Cooks Choice and Fruit
Today is:
National Biographer's Day
National Love a Tree Day
National Piercing Day
National Sea Monkey Day
Have a great day!
---