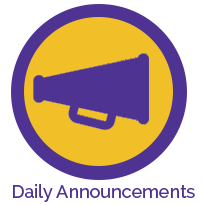 Thursday, October 5, 2017
Thursday, October 5, 2017
Today is a Gold Day.
BPA Callout—All students interested in BPA! There will be a callout this Thursday, Oct. 5, in room 107 during Tiger Time.
FCCLA—FCCLA Members and anyone interested in becoming a member, here is a great opportunity to potentially meet other FCCLA members from Randolph, Delaware, Henry, Union, and Fayette counties.
We will have our District Meeting on October 17th. We will leave HHS around 3:30pm and return around 8pm.  The meeting runs from 4:30-7:00 and will include Step One for state recognition, community service project, nutritious snacking, dinner, and a speaker from the Farmland Conservation Club.  Cost is $6.  Please see Mrs. Hobson for a permission slip.  Slips are due by Friday, October 6th.
If you have not signed up, it is not too late!
Senior Information:
Nothing to report
Athletic Results
8th Grade Volleyball
The Lady Tigers improved to 12-1 on the season defeating Lincoln in two sets. The Tigers served a total of 26 service aces ( Cox 12, Ayotte 5,  Pruitt 5, Harris 3, Johnson 1) The Tigers play their last regular season game next Wednesday against Union County at home. It should be a great game to watch and we would like to pack the gym.
Lunch—Follow the link
http://nettlecreekschools.nutrislice.com/
Have a great day!
---