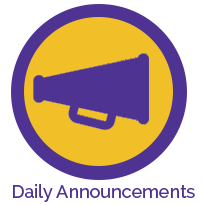 Thursday, October 26, 2017
Thursday, October 26, 2017
Today is a Gold Day.
NHS—There will be an NHS meeting on Wednesday, November 15th at 7:30 pm in Mrs. Van Meter's room. All members should attend and may bring dues that evening.
BPA—BPA meeting TODAY, Thursday, in room 107. Bring dues. Be ready to sign up for Regional competition events (have two in mind).
Variety Show—If you are interested in being in the Variety Show, please meet in Mrs. Overfield's room during Tiger Time TODAY, Thursday, October 26th. She will be passing out information at that time.
IUPUI—IUPUI will be visiting during lunch in the cafeteria.  Please take some time to visit with the representative and learn about the school and the requirements for admission.
Jostens—Class rings will be delivered TODAY during lunch.
Athletic Physicals—If you plan to participate in a winter sport, you must have a physical on file in the athletic office.  If you need a packet, they are available in the front office.  You will not be allowed to participate until the packet is entirely completed.  Please see Ms. Robinson if you have any questions.
Senior Information:
Nothing to report
Athletic Results
Nothing to report
Lunch—Follow the link
http://nettlecreekschools.nutrislice.com/
Have a great day!
---