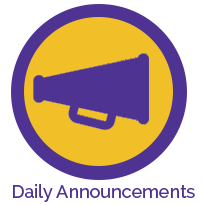 Thursday, November 30, 2017
Thursday, November 30, 2017
Today is a Gold Day.
Attention Students—Reminder no food and/or drinks in North Lobby or Gyms during lunch.  You should not take food and/or drinks passed the drinking fountains.
BPA—BPA meeting for all members competing at the RLC TODAY, Thursday, November 30 in room 107 at Tiger Time.
Dance Request—If you plan to have someone attend a dance (including Snowball) from another school, the form MUST be submitted to the front office for approval by Wednesday at 3:00 pm prior to the dance.
Snowball—Please see graphic at the end of the announcements.
Canned Food Drive—It's that time of year again! Your NHS chapter is conducting their annual canned food drive. It will happen the week of December 11th- December 15th. Bring your items to Mrs. Van Meter's room in the mornings. If we get a decent amount of participating, there will be a special opportunity for students on Friday, Dec. 15th.  We will also be collecting cans Friday, Dec. 15th at the boys and girls basketball game. Please think about helping the families in our community!
Dance—There will be a Jr/Sr high school dance Friday, Dec. 15th after the girls and boys varsity basketball game in the auxiliary gym. The dance will start approx. at 9:00pm and end at 11:00pm. Cost is $5.
Drivers Ed—Any student that had drivers education in July who would like to do the waiver test needs to see Coach Drake soon. He will try over Christmas break.
Vocational Applications—The vocational applications are ready for you to pick them up in the front office. They are light purple in color and you must use this packet. Please know that they will be due back to me no later than February 9. The vocational teachers will begin interviewing once they have your completed application after winter break.
Senior Information:
New Scholarship Posted—Knights of Pythias – Grand Domain of Indiana Educational Assistance Program – added 11/28/17 – due 1/25/18. See PDF for requirements and application
Athletic Results
8th Grade Boys Basketball
Hagerstown was defeated by Monroe Central Wed. evening 41-57.
Scoring for the Tigers were: Gabe Warvel and Kadence Roman both with 10 points each.  Kent Caudill with 9 points and Bryson Adams with 6.
They travel to Connersville tonight.
Lunch—Follow the link
http://nettlecreekschools.nutrislice.com/
Have a great day!
---