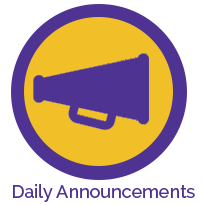 Thursday, November 16, 2017
Thursday, November 16, 2017
Today is a Gold Day.
All Students—Hacky Sack is to played during lunch in the gym ONLY.  Hacky Sack is NOT to be played in the building after school including at practices and events in the building.
Stunt Squad—Please see the end of the announcements for more information.
Library—The library is reserved today, Thursday, for MAPS testing. Students may still check in/out books, but passes will not be issued to work in the library on these days.
FCCLA—Friday will be your last opportunity to sign up for FCCLA at a reduced rate of only $14.
Tonight after school we will be meeting from 3-4.  We will be discussing future activities and working on our service project – making chew toys for an animal shelter. Next Tuesday is Giving Tuesday, a day designated to give to others.  Bring a friend and join us in preparing for giving to a shelter in need.
If you have questions about FCCLA, please see Mrs. Hobson or a member.
BPA Members—All members who are participating in the RLC December 9 please stop by Mr. Kindt's room (107) to select the meal for RLC AND get your field trip permission slip for RLC.  If you need help with your events see Mr. Kindt, Mrs. Dennis, or Mr. Snodgrass. Remember it is just four weeks away!
Senior Information:
Mrs. Oliger posted a new scholarship on the page.  Please check it out and apply if interested.
https://sites.google.com/site/hagerstownjrsrhighguidance/seniors/scholarships-1/2015-scholarships
Athletic Results
Boys 7th Grade Basketball—The 7th grade ballers lost a hard, close game Tuesday night 33/32. Mason Romack led scorers with 13, Wyatt Leach pitched in 8, Braydon Favorite for 6, Carter Jenkins for 3, and Michael Gard for 2.
Lunch—Follow the link
http://nettlecreekschools.nutrislice.com/
Have a great day!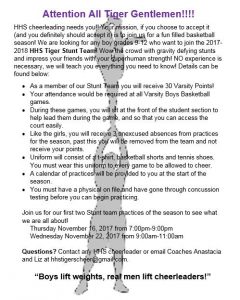 ---