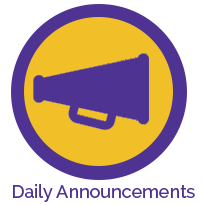 Monday, September 25, 2017
Monday, September 25, 2017
Today is a Purple Day.
Attention students in grades 7th, 8th, and 9th grade
Seventh, eighth and ninth grade students will meet on TOMORROW, Tuesday, September 26 during Tiger Time in the middle auditorium. At this meeting students will view a video on bicycle safety. After viewing students will "pair and share" where they will discuss what they viewed with partners. The meeting will conclude with students sharing what they learned on exit tickets to the proctors as they leave the room.
Thank you,
Mr. Childs, Proud Principal
Seniors—National Manufacturing Day is coming up and there is a voluntary field trip to two local factories on October 6.  This is an all day field trip.  We will tour a facility in the morning, eat lunch at Ivy Tech and then tour another facility in the afternoon.  I do not know what factories we will be visiting it could be AHAUS Tools, Sugar Creek, CIT, Hills, etc. Mrs. Oliger knows it's short notice, but she just found out about this. You MUST send her an email by  9/26 at 3:00 to go on this all day field trip.
Relax & Read in the Library: Congratulations to Brendin Sonntag and Mr. Hamilton's Tiger Time. They have the opportunity to Relax & Read in the library today.
Seniors—If you have not received your required vaccination for Senior year, please do so.  Letters are being sent to parents indicating that these are past due.  If the proper paperwork is not filed, you can be excluded from school until complete.
TIGER TIME COMPETITION! CLASS WINNER WILL RECEIVE DONUTS!
The National Honor's Society is collecting donations for the Veteran's Fair Drive starting Monday Sept. 25th.
They are in need of toiletries such as: toothbrushes, toothpaste, toothbrush holders, deodorant, soap, soap holders, dental floss, combs, disposable razors, shaving cream, shampoo, etc. (Please keep these items full size if possible.) You can also donate socks, gloves, or cold weather hats. If you don't have time to shop you can also give a monetary donation. The Tiger Time that brings in the most items will win free donuts, courtesy of the NHS. Thanks!   See end of announcements for more information.
Color Guard—There will be color guard try outs September 26th and September 28th from 6-9 at the elementary gym for winter guard.  Everyone is welcome.  If interested please contact Mr. Sloniker for more information.
Washington DC Trip—Next Thursday, September 28th at 7:30pm there will be a mandatory Washington D.C meeting in the auditorium. All students and their guardians that are attending the trip must be there. We have important information to share with you about the trip.
Costa Rica Last Chance—Check out this video! This is where we are going and what we are going to be doing while in Costa Rica….along with many other things but this is our primary focus.  If you are interested in going on this trip please come see Mrs. Bowman so you can set up a time for your parents to meet with her and get you all signed up.  There are registration packets hanging in a folder on Mrs. Bowman's door…check one out today and set up a time to meet with Mrs. Bowman and your parents ASAP.  Our trip is almost full and we need to know if you are going right away.
Senior Information:
Ivy Tech Open House—Please see the flyer at the end of the announcements.
Wendy's High School Heisman Scholarship
Since 1994, the Wendy's® High School Heisman® Scholarship has been recognizing and rewarding senior athletes who excel in the classroom, on the field, and in the community. This year, we're awarding $1
50,000 in college scholarships. Give your most well-rounded seniors a shot at winning.
100 Scholarship Winners. 2 From Every State.
The Wendy's High School Heisman recognizes 2 winners—one male athlete and one female athlete—from each state.
90 State Winners receive a $1,000 scholarship
10 State Winners move on as National Finalists with a chance to attend the Wendy's High School Heisman weekend in New York City
8 National Finalists receive a $5,000 scholarship
2 National Winners receive a $10,000 scholarship along with national honor and recognition during ESPN's telecast of the college Heisman Memorial Trophy presentation
Plus, the first 1,000 applicants get a $10 Wendy's gift card!
They've done the hard work. Now, they just need to apply. 
Winning the Wendy's High School Heisman Scholarship requires a GPA of 3.0 or better, participation in at least one school-sponsored sport, and demonstrated leadership at school and in the community. You have students who have worked hard for years to make the grade. Now help them get the recognition they deserve:
Athletic Results
HHS Cross Country Second and Third at Shelbyville
Hagerstown's boys' cross country team placed second of 13 teams and the girls third of 12 teams in the A/AA competition at the Golden Bear Shelbyville Cross Country Invitational on a hot and muggy Saturday morning.  Logan Tuttle led the Tigers with a third place finish in 16:49, and six Tigers placed in the top 25.  Kaleb Slagle was sixth, Eli Halcomb 14th, Holden Robinson 19th, Dylan Napier 20th, and Seth Richards 22nd. Tuttle commented on his performance, "I love this course, but it was super hot.  I think it went pretty well with all the heat and humidity."  The event winner was Christian Academy of Indiana who is currently ranked first in the small-school poll. "I was pleased with our effort in the heat," said Coach Kent Gray. "Looking at the times coming in, I didn't think we could stay within 40 points of Christian Academy who is number one in the small school poll and 15 this week in the all-class poll.  They got us by 22, which is significant, but we were much closer than I expected.  I'm very proud of our boys." The Tigers also placed 11th of 30 teams among all classes and are currently ranked fourth in the state among small schools.
Top Five A/AA Team Scores:  Christian Academy 37, HHS 59, Speedway 72, Cascade 106, Waldron 120.
All-Class Top Five: Avon, Southport, Christian Academy, Zionsville, Brebeuf
For the ladies, Logan McRoberts was the top Tiger, finishing fifth in the A/AA competition in 22:14. Anna Shafer raced to 11th and Madison Zetzl, 27th, Maci Matanich, 28th, and Bailey Foor, 34th, completed the top five for HHS. As a team the girls were third in the A/AA results and 15th of 29 overall. Coach Gray elaborated, "The ladies snapped back well after a lackluster meet at Connersville on Tuesday with a good performance today.  I expected us to be about 6th to 8th, so I'm most happy about third. All our runners finished strong and survived the heat.  Many girls dropped from the race and three were taken by ambulance to the local hospital with heat exhaustion. A girl from Brownsburg collapsed right in front of us with about 50 meters to go, and it took some time to revive her–very scary."
Top Five A/AA Scores:  Cascade 60, Union County 62, Hagerstown 82, Southwestern 96, Wisdom Builders 99
All-Class Top Five: Brebeuf, Brownsburg, Franklin Central, Guerin, Southport
Lunch—Follow the link
http://nettlecreekschools.nutrislice.com/
Have a great day and weekend!
---