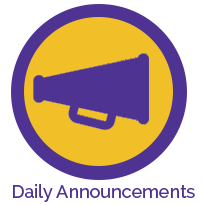 Monday, October 2, 2017
Today is a Purple Day.
Thank You—I would personally like to thank the student section of HHS for being AWESOME! Your added energy to our games has been amazing and greatly appreciated by the coaching staff and players.  You are BY FAR the best group of students in the area and I am proud to have you on our side!  Thank you for your support and for being there for all of us!  We love you all! GO TIGERS!
Coach Snodgrass
Volunteer Opportunities—Cope Environmental Center is hosting a Volunteer Fair on Wednesday, October 4, from 1:00 pm to 6:00 pm.  Fifteen organizations like Richmond Parks Department, Amigos, Girls Inc., HELP Shelter, Sprout Control, Liberty 4-H, and the Salvation Army will be among some of the organizations present that are currently looking for volunteers.
Juniors—You will be meeting tomorrow in the cafeteria during Tiger Time about After Prom.  Please report to your Tiger Time and then you will be dismissed by PA to report to the cafeteria.
FCCLA—FCCLA Members and anyone interested in becoming a member, here is a great opportunity to potentially meet other FCCLA members from Randolph, Delaware, Henry, Union, and Fayette counties.
We will have our District Meeting on October 17th. We will leave HHS around 3:30pm and return around 8pm.  The meeting runs from 4:30-7:00 and will include Step One for state recognition, community service project, nutritious snacking, dinner, and a speaker from the Farmland Conservation Club.  Cost is $6.  Please see Mrs. Hobson for a permission slip.  Slips are due by Friday, October 6th.
If you have not signed up, it is not too late!
TIGER TIME COMPETITION! CLASS WINNER WILL RECEIVE DONUTS!
The National Honor's Society is collecting donations for the Veteran's Fair Drive starting Monday Sept. 25th.
They are in need of toiletries such as: toothbrushes, toothpaste, toothbrush holders, deodorant, soap, soap holders, dental floss, combs, disposable razors, shaving cream, shampoo, etc. (Please keep these items full size if possible.) You can also donate socks, gloves, or cold weather hats. If you don't have time to shop you can also give a monetary donation. The Tiger Time that brings in the most items will win free donuts, courtesy of the NHS. Thanks!   See end of announcements for more information.
Costa Rica Last Chance—Check out this video! This is where we are going and what we are going to be doing while in Costa Rica….along with many other things but this is our primary focus.  If you are interested in going on this trip please come see Mrs. Bowman so you can set up a time for your parents to meet with her and get you all signed up.  There are registration packets hanging in a folder on Mrs. Bowman's door…check one out today and set up a time to meet with Mrs. Bowman and your parents ASAP.  Our trip is almost full and we need to know if you are going right away.
Senior Information:
Ivy Tech Open House—Please see the flyer at the end of the announcements.
DEADLINE Phase 1—Today October 2 at 3:00 PM!!!! Wendy's High School Heisman Scholarship
Since 1994, the Wendy's® High School Heisman® Scholarship has been recognizing and rewarding senior athletes who excel in the classroom, on the field, and in the community. This year, we're awarding $1
50,000 in college scholarships. Give your most well-rounded seniors a shot at winning.
100 Scholarship Winners. 2 From Every State.
The Wendy's High School Heisman recognizes 2 winners—one male athlete and one female athlete—from each state.
90 State Winners receive a $1,000 scholarship
10 State Winners move on as National Finalists with a chance to attend the Wendy's High School Heisman weekend in New York City
8 National Finalists receive a $5,000 scholarship
2 National Winners receive a $10,000 scholarship along with national honor and recognition during ESPN's telecast of the college Heisman Memorial Trophy presentation
Plus, the first 1,000 applicants get a $10 Wendy's gift card!
They've done the hard work. Now, they just need to apply. 
Winning the Wendy's High School Heisman Scholarship requires a GPA of 3.0 or better, participation in at least one school-sponsored sport, and demonstrated leadership at school and in the community. You have students who have worked hard for years to make the grade. Now help them get the recognition they deserve:
Athletic Results
Boys CC Wins Sixth Consecutive TEC Title, Girls Place Third
Hagerstown's boys' cross country squad placed four runners in the top ten and seven in the top 25 en route to its sixth consecutive TEC championship at Union City on Saturday. Logan Tuttle and Kaleb Slagle both battled hard against eventual TEC champion Camden Abernathy of Winchester but had to settle for second and third. Eli Halcomb raced to fourth in a personal-best time of 17:28.5, Holden Robinson finished tenth, Seth Richards 15th, Alexander McKee 21st and Dylan Napier 22nd.
Top Ten All-TEC Individuals: 1. Abernathy (W) 16:57, 2. Tuttle (H), 3. Slagle (H), 4. Halcomb (H), 5. Austin Wampler (L), 6. Payton McGriff (L), 7. Trent Bertsch (L), 8. Ravi Dare (UCO), 9. Jamesin Parker (W), 10. Robinson (H)
Top Three Team Scores:  HHS 34, Lincoln 55, Centerville 89
The Lady Tigers ran one of their best races of the season as Logan McRoberts and Anna Shafer earned all-conference honors by finishing sixth and seventh, both in season-best times.  Madison Zetzl was also in the top twenty at 19th, while Maci Matanich placed 24th, Teresa Rojas 26th, Baylee Foor 30th, and Kassidy Oliger 31st.
Top Ten All-Conference Individuals:  1. Emily Tedder (C) 20:49, 2. Samantha Ramey (UCO), 3. Kayla Newman (C) 4. Reagan Hoggart (UCI), 5. Vanessa West (UCO), 6. McRoberts (H), 7. Shafer (H), 8. Anavay Antrim (UCO), 9. Ella Baldwin (W), 10. Kailee Tedder
Top Three Team Scores: Union County 39, Centerville 44, Hagerstown 6
Junior High Cross Country
Both junior Tiger squads competed Saturday in Union City for the conference championship.
Each team managed fourth-place finishes on the day with scoring performances from Haven Ragen, 8th; Ava Moore, 10th; Korah Neal, 19th; Taylor Pass, 32nd; Jenna Smith, 39th; Quentin Osborne, 1st; Carter Jenkins, 15th; Ben Loudy, 28th; Ryan Hill, 29th; and Quaid Mull, 36th.
Special congratulations go to Quentin Osborne for yet another stellar performance in earning the title of Conference Champion. Running with real purpose, young Osborne has yet to be defeated on the season with only two meets left in competition against Northeastern and Union.
Lunch—Follow the link
http://nettlecreekschools.nutrislice.com/
Have a great day!
---