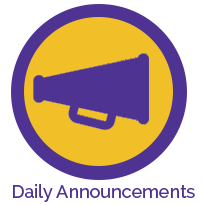 Monday, October 16, 2017
Today is a Purple Day.
Welcome Back!  We begin the 2nd 9 weeks today.
Picture Retakes—Picture retakes will be this Friday.  If you did not get your picture taken you MUST get your picture take.
Senior Orders—Clark School Services will be in the North Lobby this Friday to take orders for senior items.  If you have any questions, please see Mr. Oliger or Mr. Kindt.
Athletic Physicals—If you plan to participate in a winter sport, you must have a physical on file in the athletic office.  If you need a packet, they are available in the front office.  You will not be allowed to participate until the packet is entirely completed.  Please see Ms. Robinson if you have any questions.
BPA—If you missed the callout meeting, please see Mr.Kindt for information.  If you are interested in being an officer, please see him for an application.
Senior Information:
Nothing to report
Athletic Results
Fantastic Four:  Boys Cross Country Wins Fourth Straight Sectional Title, McRoberts and Shafer Advance for Girls.
Running with great determination on a windy and humid morning, Hagerstown's boys' cross country squad captured its fourth-consecutive Connersville Sectional Championship on Saturday, October 7.  The Tigers' 61 points easily outdistanced second-place Cambridge City Lincoln and the rest of the 13-team field.  Logan Tuttle ran first for HHS for the fourth-straight contest, placing fourth overall.  Eli Halcomb, who continues to improve with every race, finished just behind Tuttle at fifth.  Kaleb Slagle also landed in the top ten at 10th while Holden Robinson placed 16th, Seth Richards, 26th, Dylan Napier 33rd, and Alexander McKee 39th of 83 runners.  Coach Kent Gray spoke about the meet, "I'm very proud of the boys for taking their fourth sectional in as many years, especially given the amount of talent we graduated last year.  For a school our size to win four all-class sectionals in any sport is a rarity and a fine accomplishment.  The scoring didn't hit quite like expected today, and times were slow across the board, but the margin of victory was about right.  A couple of our guys got excited and went out too fast which hurt them over the last mile.  We will have to run smarter at Rushville next week if we want to advance as a team to semi-state for the fourth straight year."  Worthy of note:  Hagerstown had a strong fan base among a large sectional crowd.  The teams would like to give a special thanks to the football players, volleyball players, and school officials who came to support them along with the usual parents, grandparents, and relatives.
Top Five Team Scores:  HHS 61, Lincoln 93, New Castle 97, Rushville 133, Connersville 143
Individual Winner:  Andrew Miller, Rushville
As a team, the Lady Tigers placed squarely in the middle at seventh, but two individuals advanced to the Rushville Regional with strong showings.  Logan McRoberts finished 11th overall and second among advancing individuals while Anna Shafer was 16th overall and third among advancing individuals.  The rest of the girls placed as follows:  Madison Zetzl 36th, Maci Matanich 38th, Teresa Rojas 43rd, Baylee Foor 45th, and Kenzie Neeley 49th.
Top Five Team Scores: Rushville 40, Union County 85, Franklin County 99, Centerville 107, Seton 124.
Individual Winner:  Jenna Barker, Seton Catholic
8th Grade Volleyball
The Hagerstown 8th Grade Lady Tigers Volleyball Team ended their season winning the Wayne County Tourney defeating Northeastern in the championship game 25-13, 25-12.  The Tigers defeated Lincoln 25 – 12 , 25 – 6 in the morning match.
Carli Cox- 6 kills, 2digs, 1 ace
Carli Senese- 2 digs, 4 aces
Allison Ayotte- 10 aces, 17 assists, 1 kill, 4 digs
Madelynn Ward- 3 kills, 2 digs
Maddie Pruitt- 7 aces, 2 kills, 1 dig
Marissa Slagle- 4 kills, 3 aces, 2 digs
Hayley Harris- 4 aces, 2 kills, 6 digs
Tori Kelley- 4 aces, 10 digs
Bethany Castle- 4 aces, 8 digs
Mya Edwards- 1 block, 7 digs
Mackenzie Johnson- 3 kills, 3 aces. 2 digs
The Tigers ended the season with a back to back win at county tourney and a season record of 14-2.
Slagle leads Tiger CC to Fourth Straight Semi-State, McRoberts Advances for Third Time
Kaleb Slagle posted the best individual regional finish in Hagerstown's school history at third, and the Tiger boys placed fourth as a team at the Rushville Cross Country Regional to advance to their fourth consecutive semi-state. Though not his best time of the season, Slagle bested all competitors from the Connersville Sectional and produced his best race of the season, running relaxed with the lead pack and being narrowly out-sprinted to the finish by regional champion Nick Perkins of Roncalli and Kyle Liwanag of Warren Central. Logan Tuttle finished 11th overall, eighth for scoring purposes.  Other scoring places for HHS included:  Eli Halcomb 20, Holden Robinson 39, Dylan Napier 43, Alexander McKee 50, and Seth Richards 56.
Also advancing as a team was Cambridge City Lincoln, moving two TEC teams on to Shelbyville and the land of the giants where the average enrollment of qualifying teams is well over 2000, with Carmel dwarfing all competitors at 5063.  HHS currently has 333 high school students and Lincoln 312.  Coach Kent Gray elaborated on the meet, "Slagle ran a very smart race and a moderate pace in the first mile worked to his advantage. His exceptional place and a great final kick by both Robinson and Napier saved the day for us.  As a team we were focused on beating Scecina to ensure a top five finish, but as the race progressed it became apparent that Lincoln was running great and really challenging for a qualifying spot.  As it turned out both TEC schools got Warren Central as well as Scecina and were able to advance.  I think I was as excited for Lincoln as their coach was. Their kids have worked hard and provided a good challenge for us all season.  They will finish the season ranked in the top 10 in the small-class poll."  The Tigers are currently ranked fourth in the small-school poll and are one of only seven of those 132 small schools to advance to the four semi-states.
Two other local runners advanced as individuals, twin brothers Paul and Will Stamm of Seton Catholic finished fifth and seventh.  Top Five Advancing Team Scores:  Franklin Central 74, New Palestine 78, Roncalli 103, HHS 113, Lincoln 120.
Logan McRoberts also ran her best race of the season, keeping a steady pace and finishing strong to place ninth among individuals advancing to semi-state.  This was McRoberts third consecutive advancement beyond regional.  Jenna Barker was the event winner and was joined in qualification by teammate Hannah Stamm and local athletes Kayla Newman of Centerville, and Samantha Ramey and Vanessa West of Union County.  Top Five Advancing Team Scores: Franklin Central 25, Rushville 93, New Palestine 109, Warren Central 113, Greenfield Central 163.
Lunch—Follow the link
http://nettlecreekschools.nutrislice.com/
Have a great day!
---