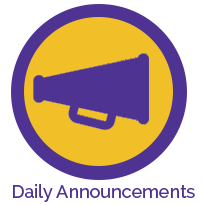 Monday, November 27, 2017
Monday, November 27, 2017
Today is a Purple Day.
Welcome back!!!
Relax & Read in the Library: Congratulations to Erika Grams and Mr. Hamilton's Tiger Time. They have the opportunity to Relax & Read in the library today.
Winter Conditioning for Track Athletes and Others will begin TODAY, Monday, 27 November.  We will meet Monday, Wednesday, Thursday for strength training and running.  This is voluntary and any out of season athlete with a physical form and other necessary paperwork on file is welcome to participate. Meet in the cafeteria dressed and ready to go after school.  We will likely be done by 4:30-5:00.
Juniors—Please read your email from Mrs. Oliger as it explains how you can earn free prom tickets.
Senior Information:
Mrs. Oliger posted a new scholarship on the page.  Please check it out and apply if interested.
https://sites.google.com/site/hagerstownjrsrhighguidance/seniors/scholarships-1/2015-scholarships
Athletic Results
7th Grade Boys Basketball—The 7th grade BB team lost to Northeastern Nov 20. Romack lead scorers with 7, followed by Leach with 6, Favorite with 4, Jenkins with 3, and Gard with 2. The next game is November 29 against Monroe Central at home.
Lunch—Follow the link
http://nettlecreekschools.nutrislice.com/
Have a great day!
---