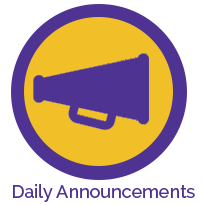 Monday, November 13, 2017
Monday, November 13, 2017
Today is a Purple Day.
All Students—Hacky Sack is to played during lunch in the gym ONLY.  Hacky Sack is NOT to be played in the building after school including at practices and events in the building.
FCCLA—This is FCCLA Rush Week!  FCCLA is a career technical organization focusing on family community careers and leadership. Several activities are planned throughout the week for members and anyone who may be interested. FCCLA is open to students grades seven through 12. This week membership will be reduced a dollar to $14 for the year. This includes all local district state and national activities. The last two years we have had a Hagerstown student qualify for national convention. We will have a FCCLA meeting during tiger time on Tuesday. Watch announcements for a special afterschool activity later this week. Roll In and find out more about the organization.  See Mrs. Hobson or a member for more information.
BPA Members—All members who are participating in the RLC December 9 please stop by Mr. Kindt's room (107) to select the meal for RLC AND get your field trip permission slip for RLC.  If you need help with your events see Mr. Kindt, Mrs. Dennis, or Mr. Snodgrass. Remember it is just four weeks away!
NHS—There will be an NHS meeting on Wednesday, November 15th at 7:30 pm in Mrs. Van Meter's room. All members should attend and may bring dues that evening.
Senior Information:
Nothing to report
Athletic Results
Nothing to report
Lunch—Follow the link
http://nettlecreekschools.nutrislice.com/
Have a great day!
---