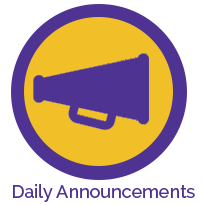 Friday, October 27, 2017
Today is a Condensed Tiger Day.
CONDENSED DAY   (Friday)
Admit Bell: 8:20
Block P1:   8:30-9:08
Block G1:   9:13-9:51
Block P2:   9:56-10:34
Block G2:   10:39-11:17
Block P3:   11:22-12:52
Lunch A     11:22-11:52
Lunch B     11:52-12:22
Lunch C     12:22-12:52
Block G3:   12:57-1:35
Block P4:   1:40-2:18
Block G4:   2:23-3:00
8th Grade Field Trip Monday—Please remember that Monday you will be visiting all of the college campuses in Wayne County. These colleges include IU East, Ivy Tech, Purdue Polytechnic, and Earlham College. The purpose of this day long visit to these post-secondary colleges is to introduce all Wayne County 8th graders to a mini-college experience
High School Wrestling—First day of official high school wrestling will be Monday, October 30 from 3:30-5:30pm.  Coach Payne
Ivy Tech Dual Credit Night—Ivy Tech will be hosting an event on November 2 from 5 p.m. to 7 p.m. at campuses across the state.  At the event, dual credit students can learn more about the credits they have earned, how their credits can assist them on their path toward a college certificate or degree, and more about Ivy Tech! Representatives from Admissions, Financial Aid, and various programs will be available to answer questions and provide more information on ways you can continue to save money through their educational journey.
NHS—There will be an NHS meeting on Wednesday, November 15th at 7:30 pm in Mrs. Van Meter's room. All members should attend and may bring dues that evening.
Athletic Physicals—If you plan to participate in a winter sport, you must have a physical on file in the athletic office.  If you need a packet, they are available in the front office.  You will not be allowed to participate until the packet is entirely completed.  Please see Ms. Robinson if you have any questions.
Senior Information:
Hagerstown Sister City Scholarship—Please see your email from Mrs. Oliger about this scholarship.
Athletic Results
Nothing to report
Lunch—Follow the link
http://nettlecreekschools.nutrislice.com/
Have a great day and weekend!
Good luck to the football team this evening in sectional play against Tri.
---