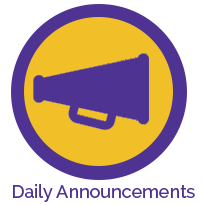 Friday, November 3, 2017
Today is a regular Tiger Day.
Tiger Day Schedule
Admit Bell        7:50
Block P1:         8:00-8:40
Block G1:         8:45-9:25
Block P2:         9:30-10:10
Block G2:         10:15-10:55
Block P3:         11:00-12:35
Lunch A   11:00-11:30
Lunch B   11:30-12:00
Lunch C   12:00-12:30
Block G3:         12:40-1:20
Block P4:         1:25-2:05
Block G4:         2:10-3:00
Food & Beverages—Please refer to page 12 Cafeteria #6 of your student handbook for the policy on food and drinks in the hallways and classrooms.  Food is to be consumed ONLY in the cafeteria.  You should have only water (no other flavored beverages) in the hallways and classrooms.
7th & 8th Grade Volleyball—If you are interested in playing Club Volleyball this year, there will be an important parent meeting on Monday!!  Please see Coach Van Meter in Room 102 for information.
Get Your Game Face On: This week is International Games Week. Mrs. Isaacs and Jennifer Taylor from the public library have reserved several games from the public library for you to play in the school library in honor of Games Week. Students can stop in the library to get a pass for Tiger Time on Tuesday and Thursday this week to learn how to play some of the games. The games will be available in the library this week and next for play during your study hall or Tiger Time.
NHS—There will be an NHS meeting on Wednesday, November 15th at 7:30 pm in Mrs. Van Meter's room. All members should attend and may bring dues that evening.
Athletic Physicals—If you plan to participate in a winter sport, you must have a physical on file in the athletic office.  If you need a packet, they are available in the front office.  You will not be allowed to participate until the packet is entirely completed.  Please see Ms. Robinson if you have any questions.
Senior Information:
Continue to watch guidance page.
Athletic Results
The Sectional 46 football game TONIGHT, Friday, November 3, at Lutheran High School will have a delayed start time of 7:30 pm.  Lutheran High School is located at 5555 S. Arlington Ave., Indianapolis IN 46237.  Tickets are $6.
A fan bus will be going to Lutheran High School for this Friday's game.  Cost is $2 and the bus will depart from the elementary at 5:00 pm.
Lunch—Follow the link
http://nettlecreekschools.nutrislice.com/
Have a great day and weekend!
Good luck to the football team tonight!!!
---