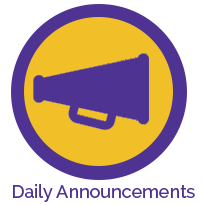 Firday, October 20, 2017
Today is a Tiger Day.
Picture Retakes—Picture retakes are TODAY.  If you did not get your picture taken you MUST get your picture taken. If you need a form, please see the front office.
Senior Orders—Clark School Services will be in the North Lobby TODAY to take orders for senior items.  If you have any questions, please see Mr. Oliger or Mr. Kindt.
Find A Job Friday—Today at lunch Dot Foods will be visiting in the cafeteria to speak with students about their requirements for employment and the type of careers that are available at Dot.  Please take the time to visit with them to learn more about careers.
BPA—If you missed the BPA meeting yesterday, please see Mr. Kindt ASAP.
Varsity CC Runners—If you have completed your season, please return uniforms to Coach Gray ASAP.
ATTENTION ALL ARCHERS—Archery practice will begin on Thursday, October 26 at 6:30 am in the junior high gym.
A call out meeting will take place this Sunday, October 22 at 3:00 pm.
Variety Show—If you are interested in being in the Variety Show, please meet in Mrs. Overfield's room during Tiger Time Thursday, October 26th. She will be passing out information at that time.
7th & 8th Grade Boys Basketball Tryouts—Any boy in grades 7 and 8 wanting to try out for the junior high boys basketball teams needs to report to tryouts on Saturday, October 21. PLEASE NOTE THE CHANGE—NO TRYOUTS TODAY, FRIDAY, OCTOBER 20!!!
7th grade tryouts will be  Saturday 10/21/17 from 2:00 to 3:30 in the Aux. Gym.
8th grade tryouts will be  Saturday 10/21/17 from 3:30 to 5:00 in the Aux. Gym.
You must have a current physical on file in the athletic office in order to participate in tryouts.
Athletic Physicals—If you plan to participate in a winter sport, you must have a physical on file in the athletic office.  If you need a packet, they are available in the front office.  You will not be allowed to participate until the packet is entirely completed.  Please see Ms. Robinson if you have any questions.
Senior Information:
Nothing to report
Athletic Results
Sectional Football Game Time Change—The game will begin at 7:30 on tonight instead of 7:00.
Lunch—Follow the link
http://nettlecreekschools.nutrislice.com/
Have a great day and weekend!
Good luck to the football team tonight and cross country and volleyball tomorrow!
---