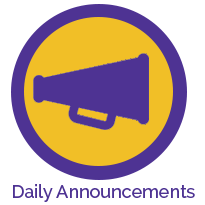 Announcements—Wednesday, January 31, 2018 Today is a Purple Day.
Announcements—Wednesday, January 31, 2018
Today is a Purple Day.
Application for Honors Classes—Applications are due TODAY, Wednesday, January 31.
Library—Please see the graphic at the end of the announcements for new books in the library.
Vocational Applications—These are due TOMORROW, February 1, by 3 pm to Mrs. Oliger. Please contact her with any questions.
Baseball or Softball—Any boy or girl in grades 9 12 who will be trying out for the JV and varsity baseball or softball team will have a meeting this Friday after school until 3:20 In the cafeteria.
Boys Golf—Boys Golf call out meeting will be TOMORROW, Thursday, February 1 during Tiger Time in the cafeteria.
Varsity Track and Field Athletes—Girls and boys grades 9-12 interested in varsity track need to see Mr. Gray or send him an email in the near future to have names placed on the roster. Coach Gray will then work with athletes on a start date and if they will be participating in indoor meets. Those finishing winter sports should take at least one week off before beginning track practice.  Coach Gray
7th Grade Boys Basketball—All players return your jerseys to Coach Kindt this week.
Vocational Open House—Please see the attachment at the end of the document regarding the New Castle Career Center Open House TOMORROW, Thursday, February 1 from 6-8 PM for students and parents.  If you are interested in Building Trades, Broadcasting, EMT & Public Safety, Health Science Education or ICE Cooperative Education, please note that the location for the Open House is not at the Career Center.
Class of 2020—We need a few more workers this Thursday, February 1 for the Brownie Sundae station!!  Work with a friend!!  Time slots are JV 1st half, JV 2nd half, Varsity 1st half, Varsity 2nd half.  Please let Mrs. Swimm know ASAP if you're available and would like to contribute your time!!
Juniors & Seniors—Your transcript review sheets have been updated – please look at them to make sure everything is correct. Please let Mrs. Oliger know if you see any issues or have questions.
Senior Information:
2018 Scholarships Awarded to a Student from a Wayne County High School
Selection by Wayne County Foundation's Scholarship Selection Committee
Online application available at
 https://waynecofdnscholars.communityforce.com/Login.aspx
January 19 through February 16
AND
IU EAST Scholarships!!!!!
PAY ATTENTION TO DEADLINES – MORE SCHOLARSHIPS TO COME
Athletic Results
Good job on a great season Girls Varsity Basketball.
Lunch—Follow the link
http://nettlecreekschools.nutrislice.com/
Have a great day!
---