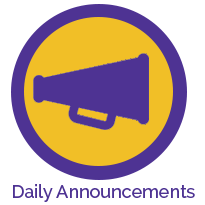 Announcements—Wednesday, February 21, 2018
Announcements—Wednesday, February 21, 2018
Today is a Purple Day.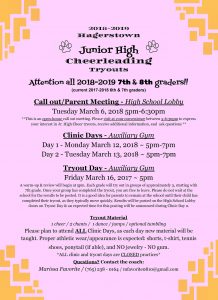 This week's schedule will be Today-Purple, Thursday-Gold and Friday-Purple.
Monday ISTEP Testing Begins—Please make sure that you get a good night's sleep, eat breakfast, bring #2 pencil and have your Chromebook charged.
Junior High Cheer—Please see the end of the announcements for an important announcement about call outs.
Jr. High Track—For boys and girls who are interested in junior high track, there will be a call out Tuesday, February 27, in the cafeteria during Tiger Time.
Tennis—Reminder that conditioning begins TODAY at 4.
NHS—Any current junior or senior that has a cumulative GPA of a 9 or higher has the opportunity to apply for membership into National Honor Society. Applications are now available in Mrs. Van Meter's room. With your application you must have two character references, only one can be a teacher the other must be someone not related to you who can tell us about you. Applications are due to Mrs. Van Meter no later than Friday, March 23 at 3:00pm. NO LATE APPLICATIONS WILL BE ACCEPTED! Any questions feel free to ask.
Senior Information:
Henry County Seniors—Please check your email for a message from Mrs. Oliger in regards to the Henry County Foundation Scholarships.  They are due by Friday, March 2, 2018 at 5 pm.
2018 Scholarships Awarded to a Student from a Wayne County High School
Selection by Wayne County Foundation's Scholarship Selection Committee
Online application available at
 https://waynecofdnscholars.communityforce.com/Login.aspx
January 19 through February 16
AND
IU EAST Scholarships!!!!!
PAY ATTENTION TO DEADLINES – MORE SCHOLARSHIPS TO COME
Athletic Results
Congratulations to Boys Varsity Basketball on a TEC Victory!
Lunch—Follow the link
http://nettlecreekschools.nutrislice.com/
Have a great day!
---