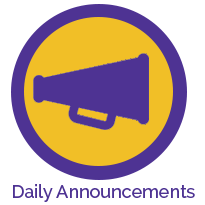 Announcements—Wednesday, December 20, 2017
Announcements—Wednesday, December 20, 2017
Today is a Purple Day.
Good Luck on Finals—Finish Strong!
Important Announcement from Mr. Childs
It has not been uncommon upon return from vacation breaks for students report that their assigned Chromebook is broken.
Please review the agreed to responsibilities and consequences from these two forms below:
Student/Parent Chromebook Agreement Form Use of Proper Care and Precautions responsibility
I/We understand that the Chromebook must be in a protective case when being transported as a reasonable precaution against damage, theft, or loss
I/We understand that I/We will be responsible for all repair/replacement charges associated with Chromebook damages caused intentionally, through a lack of reasonable precautions for loss/theft.  Cost will be set by repair officials as part of the agreement between the school district and the vendor.
Insurance Coverage/Accidental Damage/Theft & Loss Coverage
I/We understand that if, in the opinion of the Technology Director and Building Administration, it is felt that the student did not exercise proper care and/or take appropriate precautions, and this behavior resulted in damage to the Chromebook, the cost of the repair will be the responsibility of the student/parent/guardian.
I/We understand that in the event there are repeated "accidents" of a similar nature, the Technology Director and School Administration may view this as a situation whereby the student did not exercise proper care and/or reasonable precautions.  In the event this should be the case, the cost of repair will become the responsibility of the student/parent/guardian.
Student/Parent FAQ's
How do students care for the laptop?
The CHROMEBOOK should always be transported in a padded case. It is to be charged at home each night so it is ready for use at school the next day.  The labels on the Chromebook must not be removed. The Chromebook screens can be wiped with a lint free cloth. Do not use abrasive or liquid cleaners. When necessary a slightly damp cloth can be used to gently wipe down the keyboard and the screen. Make sure to keep the Chrome book on a secure surface when in use.
Mark  Childs, Principal
Hagerstown Jr. Sr. High School
Thursday, January 4—Nathan Harmon returns to our school for a presentation. 
In recognition of outstanding academic achievement, The Indiana Association of School Principals is proud to recognize:
Madison Zetzl
Lilli Neal
Holden Robinson
Anna Shafer
as a Rising Star of Indiana!
Congratulations
Library—The library is RESTRICTED ACCESS all day TODAY (Wednesday, Dec. 20). Students are restricted to checking in/out materials and testing only. Passes will not be issued for students to work in the library.
Senior Information:
Please continue to watch the guidance website for updates.
Athletic Results
Nothing to report
Lunch—Follow the link
http://nettlecreekschools.nutrislice.com/
Have a great day and holiday break!
---