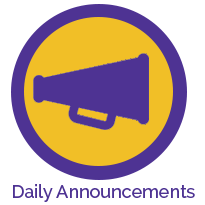 Announcements—Tuesday, May 22, 2018 Today is a Gold Day.
Announcements—Tuesday, May 22, 2018
Today is a Gold Day.
Good luck on finals!!
Seniors—Tomorrow, Wednesday, May 23, Seniors do not need to be at school until 9:00 am.  You will need to be in the cafeteria promptly at 9:00 am.  You will have donuts and milk/juice from the Ministerial Association.  Then, you will take part in graduation practice which should conclude between 10:45 and 11:00.  At that time, you will be released to your parents for Down and Dirty Daze.  Once you leave the building, you will not be allowed back into the building.
Library Materials Due—All library materials are due to the library NOW. If you have items checked out, please return them to the circulation desk today so they can be accounted for. Thanks for your help!
Library Hours—The library is closed for the school year and will not be available for student this week, unless students are testing with an adult.
Summer Reading—Do you need help finding a great book to read this summer? Mrs. Isaacs will be checking her email throughout the summer if you need a recommendation, but another great option is the Hagerstown Public Library's Great Hagerstown READing Challenge. The public library is participating in PBS's Great American Read to choose THE Great American Read. See the flyer and reading list attached if you would like to get started reading some of these great books this summer.
Girls Golf Call Out—Girls Golf Team will be having a call out meeting on Thursday, May 24 at 5 pm at Hartley Hills.
FITNESS LAB WILL BEGIN TUESDAY, MAY 29 AT 7:00AM IN THE HHS GYM FOR ALL ATHLETES—Athletes can earn 20 points towards their letter jackets (equivalent of JV points) for attending Fitness Lab each summer.  We are looking forward to building our SUMMER TEAM! 
For a student athlete to receive credit for Fitness Lab the student must be present for 12 of the 15 scheduled labs. A student athlete may miss three (3) of the 15 labs for any reason (sickness, family vacation, 4-H, travel sports events, school events, etc.) and still receive credit for Fitness Lab. If a student athlete is not in attendance for 12 of the 15 schedule labs, the student will not receive credit.
A Hagerstown High School Varsity Head Coach will have the option to appeal a situation due to Hagerstown High School athletic events. The Varsity coach would present the case to the Fitness Lab instructors and the Athletic Director. The decision made by the instructors and Athletic Director is final. 
ONE SCHOOL, ONE TEAM!  Go Tigers!
Volleyball Managers Wanted—The High School Volleyball Teams are seeking responsible and hardworking individuals who wish to manage volleyball next fall.  Please see Coach Swimm if you are interested.
Peer Helper Applications—Any current 9th, 10th or 11th-grade student interested in being a peer helper next school year, please check your email for an application from Mrs. Van Meter.  If you have any questions, please see Mrs. Van Meter.
Physical Packet—Please pick up NEW 2018-2019 physical packets in the front office. Get these turned in before summer break to be ready for next school year. If you have a physical on file, it expires July 31st.
Lost and Found—Everything that was in the lost and found has been placed on tables outside of Mrs. Bowman's room. Please look for anything that might be yours, but be sure to ONLY take what belongs to you. Anything that has not been claimed by the end of the year will be taken to the thrift shop.
Dress Code—With warmer temperatures, please review the dress code on page 11—do not forget thumb length.
Athletic Results
Nothing reported.
Lunch—Follow the link
http://nettlecreekschools.nutrislice.com/
Have a great day!
---