Announcements—Thursday, March 8, 2018 Today is a Gold Day.
Announcements—Thursday, March 8, 2018
Today is a Gold Day.
End of 9 Weeks—Just a reminder that the end of the 9 weeks is TOMORROW, Friday, March 9.  Report cards will be distributed on March 16.
Remember that being on Academic/Athletic Probation will prohibit you from participating in sporting events and attending prom.  See page 2 of your student handbook for more information.
BPA—Final BPA meeting for all SLC members TODAY during Tiger Time in room 107. Bring your permission slips.
Girls Basketball—Any girl interested in playing basketball next season needs to meet in Mr. Oliger's room TODAY during Tiger Time for a very important meeting about the summer.
Spring Choir Concert—Please see end of announcement.  Concert to be held Tuesday, March 20.
Variety Show—Please see end of announcement.  Show to be held Thursday, March 22.
NHS—The next NHS meeting will be Wednesday, March 21 at 6:15 in Mrs. Van Meter's room.
Jr High Golf Call Out—A call out meeting will be held at 6 pm on Tuesday, March 13 at Hartley Hills Golf Club.
Musical—Mr. Sloniker is still looking for extras for Seussical this spring.  Parts are easy and a lot of fun.  If interested in being in the production with a smaller role contact Mr. Sloniker today!"
Prom Packets—The prom packet was shared with you in an email.  In order to conserve paper, Mrs. Oliger will not be printing these off.  Please READ the packet in its entirety.  You are responsible for asking questions and completing the proper forms for guests. Mrs. Oliger is asking for interest in the dinner/red carpet walk in an email.  Please respond to her asap.
Prom 2018—Please see the following:
The 2018 Prom theme is "A Moment in Time."  It will be held April 28 at Hartley Hills.
If at the end of this 9 weeks you are on AP – you will NOTbe able to attend prom.
We will be offering a meal option before at the golf course – please see information in the Prom Packet announcement.
NHS—Any current junior or senior that has a cumulative GPA of a 9 or higher has the opportunity to apply for membership into National Honor Society. Applications are now available in Mrs. Van Meter's room. With your application you must have two character references, only one can be a teacher the other must be someone not related to you who can tell us about you. Applications are due to Mrs. Van Meter no later than Friday, March 23 at 3:00pm. NO LATE APPLICATIONS WILL BE ACCEPTED! Any questions feel free to ask.
Senior Information:
Local Scholarships—Remember to check the website for local scholarships.  Do not wait until the last moment to complete the scholarships.
Jayne Miller Scholarship—The much anticipated Jayne Miller scholarship is now posted.  Please note the due date and where it has to be sent.  It must be either mailed or hand delivered.
Athletic Results
Nothing to report
Lunch—Follow the link
http://nettlecreekschools.nutrislice.com/
Have a great day!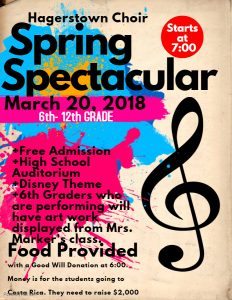 ---