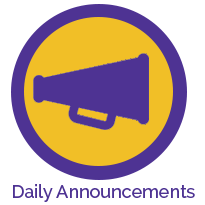 Announcements—Thursday, February 15, 2018 Today is a Gold Day.
Announcements—Thursday, February 15, 2018
Today is a Gold Day.
NHS—Any current junior or senior that has a cumulative GPA of a 9 or higher has the opportunity to apply for membership into National Honor Society. Applications are now available in Mrs. Van Meter's room. With your application you must have two character references, only one can be a teacher the other must be someone not related to you who can tell us about you. Applications are due to Mrs. Van Meter no later than Friday, March 23 at 3:00pm. NO LATE APPLICATIONS WILL BE ACCEPTED! Any questions feel free to ask.
FFA—There will be a mandatory FFA meeting during Tiger Time TODAY.
Library—Please see the end of the announcements for new books.
Senior Information:
Henry County Seniors—Please check your email for a message from Mrs. Oliger in regards to the Henry County Foundation Scholarships.  They are due by Friday, March 2, 2018 at 5 pm.
2018 Scholarships Awarded to a Student from a Wayne County High School
Selection by Wayne County Foundation's Scholarship Selection Committee
Online application available at
 https://waynecofdnscholars.communityforce.com/Login.aspx
January 19 through February 16
AND
IU EAST Scholarships!!!!!
PAY ATTENTION TO DEADLINES – MORE SCHOLARSHIPS TO COME
Athletic Results
8th Grade Girls Basketball
Thursday night the 8th grade Hagerstown Lady Tigers travelled to Blue River for a match up of two high-level teams. The Lady Tigers led 10-8 after the first quarter, but the Lady Vikings battled back to tie the game at 15 at the half. The Lady Tigers came out hot to start the second half, pulling ahead 22-15, but after regrouping and some untimely Tiger fouls, the Vikings pulled ahead 29-27. During the final quarter, the Vikings controlled the boards and made free throws down the stretch to win the game 44-38.
"I told the girls at halftime that the game would come down to rebounding," Hagerstown coach Sean Slagle said. "I was right. We gave up multiple second and third shot opportunities and that was the difference in the game."
He added, "It was a great and fun game. Both teams went on runs and shot the ball well."
Scoring for the Lady Tigers: Carli Cox 12, Madelynn Ward 10, Grace Klein 6, and Marissa Slagle and Tori Kelley 5 each.
Lunch—Follow the link
http://nettlecreekschools.nutrislice.com/
Have a great day!
---