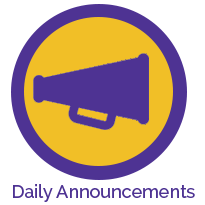 Announcements—Monday, May 21, 2018 Today is a Purple Day.
Announcements—Monday, May 21, 2018
Today is a Purple Day.
Good luck on finals!!
Seniors—Wednesday, May 23, Seniors do not need to be at school until 9:00 am.  You will need to be in the cafeteria promptly at 9:00 am.  You will have donuts and milk/juice from the Ministerial Association.  Then, you will take part in graduation practice which should conclude between 10:45 and 11:00.  At that time, you will be released to your parents for Down and Dirty Days.  Once you leave the building, you will not be allowed back into the building.
Library Materials Due—All library materials are due to the library NOW. If you have items checked out, please return them to the circulation desk today so they can be accounted for. Thanks for your help!
Library Hours—The library is closed for the school year and will not be available for student passes today, Monday, May 21-Wednesday, May 23, unless students are testing with an adult.
Summer Reading—Do you need help finding a great book to read this summer? Mrs. Isaacs will be checking her email throughout the summer if you need a recommendation, but another great option is the Hagerstown Public Library's Great Hagerstown READing Challenge. The public library is participating in PBS's Great American Read to choose THE Great American Read. See the flyer and reading list attached if you would like to get started reading some of these great books this summer.
Girls Golf Call Out—Girls Golf Team will be having a call out meeting at Thursday, May 24 at 5 pm at Hartley Hills.
FITNESS LAB WILL BEGIN TUESDAY, MAY 29 AT 7:00AM IN THE HHS GYM FOR ALL ATHLETES—Athletes can earn 20 points towards their letter jackets (equivalent of JV points) for attending Fitness Lab each summer.  We are looking forward to building our SUMMER TEAM! 
For a student athlete to receive credit for Fitness Lab the student must be present for 12 of the 15 scheduled labs. A student athlete may miss three (3) of the 15 labs for any reason (sickness, family vacation, 4-H, travel sports events, school events, etc.) and still receive credit for Fitness Lab. If a student athlete is not in attendance for 12 of the 15 schedule labs, the student will not receive credit.
A Hagerstown High School Varsity Head Coach will have the option to appeal a situation due to Hagerstown High School athletic events. The Varsity coach would present the case to the Fitness Lab instructors and the Athletic Director. The decision made by the instructors and Athletic Director is final. 
ONE SCHOOL, ONE TEAM!  Go Tigers!
Volleyball Managers Wanted—The High School Volleyball Teams are seeking responsible and hardworking individuals who wish to manage volleyball next fall.  Please see Coach Swimm if you are interested.
Peer Helper Applications—Any current 9th, 10th or 11th-grade student interested in being a peer helper next school year, please check your email for an application from Mrs. Van Meter.  If you have any questions, please see Mrs. Van Meter.
Physical Packet—Please pick up NEW 2018-2019 physical packets in the front office. Get these turned in before summer break to be ready for next school year. If you have a physical on file, it expires July 31st.
Lost and Found—Everything that was in the lost and found has been placed on tables outside of Mrs. Bowman's room. Please look for anything that might be yours, but be sure to ONLY take what belongs to you. Anything that has not been claimed by the end of the year will be taken to the thrift shop.
Dress Code—With warmer temperatures, please review the dress code on page 11—do not forget thumb length.
Athletic Results
2018 Middle School Track & Field Championships
The 2018 Middle School Track & Field Championships were held this past Saturday in Terre Haute at North Vigo High School. Participating in the meet were Kent Caudill (400 M and 4 x 4 Relay), Carter Jenkins (4 x 4 Relay), Lucas Napier (4 x 4 Relay), and Quentin Osborne (1600 M, 800 M, and 4 x 4 Relay). Medals were given to the top eight finishers in each event.
It was an all-day event in nearly 90-degree heat among a field of elite athletes. The heat was unforgiving and so was the competition.
Osborne was first to compete in the 1600 M Run. There were 12 runners who posted faster times than Osborne ahead of the event, and he was looking to improve upon that seeding. It proved difficult. The overall field was much faster than previously posted times. To medal in the event, Osborne needed to post a 4:55 for 8th place. It wasn't to be. In the end, Osborne placed 11th overall. The winner of the event was Batesville's Ean Loichinger with a time of 4:40.28.
Next up was Kent Caudill in the 400 M Dash. Caudill found himself among the nobility of middle school runners as well. Caudill was assigned to lane 1, and he didn't hear the starter's command to "set" causing him to get off to a slow start. Despite this Caudill improved on his school-record time finishing with a 55.4, but it placed him just outside medal contention in 9th place. The State Champion was Murry Ross-Harman of Jackson Creek Middle School with a time of 53.15.
Quentin Osborne also found himself assigned to lane one in the 800 M Run. When this event is organized in box alley, lane one is not the ideal place to be among the fastest in the state. If a runner in lane one cannot out sprint higher seeds, who have the advantage of the stagger, before the cut, the term, 'box,' in box alley becomes a reality. This is exactly what happened. Though Osborne started with force, the meters advantage of the runners staggered ahead of him boxed him in through the back stretch and through the next two turns disabling him from advancing forward or moving to his right.
Despite the tight quarters causing his foot to be stepped upon and his chest to be elbowed, Osborne worked to break free of the mob. Still pinned in lane two by the second lap, Osborne fought his way out to overcome a number of runners to out kick his way to medal contention in 8th place. His time of 2:16.06 was not his best, but it was well earned. Liberty Christian's Noah Price earned state champion honors with a time of 2:06.35.
Maybe it was the weight of everything. It could have been the heat and the long wait and the fact that two of the participants were already exhausted from performing under these circumstances. Perhaps it was the fact that all the other teams were exceptional, but it was certain that if the 4 x 4 team was to contend for a medal, there was no margin for error against the field.
The odds were not in their favor. The quad could not manage their best on this day and finished almost 6 seconds behind there best recorded time which landed them in 10th place. This was not what was anticipated. The state champion team from West Lafayette managed a time of 3:49.56.
Later that night as this writer and coach reflected upon this season, I watched Osborne and Jenkins in the hotel pool racing each other from one end to the other to see who was the fastest swimmer. I watched as the foursome created numerous challenges to complete, and I saw that they would not quit until they achieved their collective goal. I knew then that the future of track & field at Hagerstown was in good hands. I knew that this was not an end but a beginning of something great. Three of them will move on to appreciate 4 years of varsity competition together while 1 will experience 3. Coach Gray has to be pleased with this prospect. I look forward to seeing all of them develop at the varsity level.
The same goes for the rest of the boys who are moving on to 9th grade next year: Bryson Adams, Peyton French, Carter House, Ben Loudy, Gage O'Hair, and Trey Sharp. All of these boys contributed to the tremendous success to the smallest team in recent memory that finished the season 21-5.
Lunch—Follow the link
http://nettlecreekschools.nutrislice.com/
Have a great day!
---