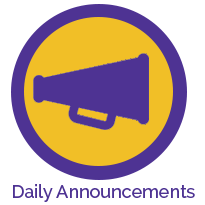 Announcements—Monday, January 29, 2018 Today is a Purple Day.
Announcements—Monday, January 29, 2018
Today is a Purple Day.
Relax & Read in the Library: Congratulations to Lilly Severance and Mr. Gray's Tiger Time. They have the opportunity to Relax & Read in the library today.
Boys Golf—Boys Golf call out meeting will be Thursday, February 2 during Tiger Time in the cafeteria.
Vocational Open House—Please see the attachment at the end of the document regarding the New Castle Career Center Open House Thursday, February 1 from 6-8 PM for students and parents.  If you are interested in Building Trades, Broadcasting, EMT & Public Safety, Health Science Education or ICE Cooperative Education, please note that the location for the Open House is not at the Career Center.
Vocational Applications—These are due by February 1 to Mrs. Oliger. Please contact her with any questions.
Class of 2020—We need a few more workers this Thursday, February 1 for the Brownie Sundae station!!  Work with a friend!!  Time slots are JV 1st half, JV 2nd half, Varsity 1st half, Varsity 2nd half.  Please let Mrs. Swimm know ASAP if you're available and would like to contribute your time!!
Juniors & Seniors—Your transcript review sheets have been updated – please look at them to make sure everything is correct. Please let Mrs. Oliger know if you see any issues or have questions.
Application for Honors Classes—Students in grades 7-11 interested in applying for Honors classes for the 2018-2019 school year will need to pick up an application from the front office.  Packets will need to be completed and returned to the office.  They will be available from January 18-January 31.  Applications are due this Wednesday, January 31.
Senior Information:
2018 Scholarships Awarded to a Student from a Wayne County High School
Selection by Wayne County Foundation's Scholarship Selection Committee
Online application available at
 https://waynecofdnscholars.communityforce.com/Login.aspx
January 19 through February 16
AND
IU EAST Scholarships!!!!!
PAY ATTENTION TO DEADLINES – MORE SCHOLARSHIPS TO COME
Athletic Results
Wrestling Sectionals
Good job to all wrestlers who competed on Saturday.  Congratulations to Kristion Bates, William Castle, Jake Combs, Jonathan Monaghan, Javin Payne and Cameron Purtha for qualifying for Regionals!
Varsity Swimming
Hagerstown Tiger Sharks were represented at the Centerville Boys Swim Invitational by only two young men.  They did an excellent job representing their school!  Senior Ben Reagan placed 4th in the 50 Free and 2nd in the 100 Backstroke with a personal best time!  Junior Tyler Wilson swam to 4th in both the 200 IM and 100 Freestyle, getting his personal best in the IM.  Other schools represented there were Centerville, Milan, Heritage Christian and East Central Indy.
Lunch—Follow the link
http://nettlecreekschools.nutrislice.com/
Have a great day!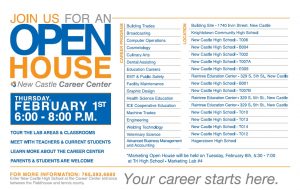 ---