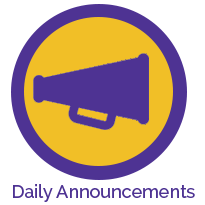 Announcements—Friday, May 18, 2018 Today is a Tiger Day.
Announcements—Friday, May 18, 2018
Today is a Tiger Day.
Library Materials Due—All library materials are due to the library NOW. If you have items checked out, please return them to the circulation desk today so they can be accounted for. Thanks for your help!
Library Hours—The library will be available for passes and student use this week. The library will close for the school year on Friday, May 18, and will not be available for student passes Monday, May 21-Wednesday, May 23, unless students are testing with an adult.
Girls Golf Call Out—Girls Golf Team will be having a call out meeting at Thursday, May 24 at 5 pm at Hartley Hills.
SGA Elections—It is time to set our class officers for next year.  We will be needing a president, vice president, Secretary, Treasurer, and up to 4 class representatives for each grade level.  If you have never participated in SGA you should consider it if you would like to be a part of the decision making process for many different school projects.  SGA members are frequently used to help in many different capacities around the school and are our best representatives and leaders when decisions and policies need to be made or changed.  Consider being a part of a great group with the power of change…..make your voice heard!
Click this link to fill out your petition for office
FITNESS LAB WILL BEGIN TUESDAY, MAY 29 AT 7:00AM IN THE HHS GYM FOR ALL ATHLETES—Athletes can earn 20 points towards their letter jackets (equivalent of JV points) for attending Fitness Lab each summer.  We are looking forward to building our SUMMER TEAM! 
For a student athlete to receive credit for Fitness Lab the student must be present for 12 of the 15 scheduled labs. A student athlete may miss three (3) of the 15 labs for any reason (sickness, family vacation, 4-H, travel sports events, school events, etc.) and still receive credit for Fitness Lab. If a student athlete is not in attendance for 12 of the 15 schedule labs, the student will not receive credit.
A Hagerstown High School Varsity Head Coach will have the option to appeal a situation due to Hagerstown High School athletic events. The Varsity coach would present the case to the Fitness Lab instructors and the Athletic Director. The decision made by the instructors and Athletic Director is final. 
ONE SCHOOL, ONE TEAM!  Go Tigers!
Volleyball Managers Wanted—The High School Volleyball Teams are seeking responsible and hardworking individuals who wish to manage volleyball next fall.  Please see Coach Swimm if you are interested.
Football Managers—Tiger Football is looking for hard working students that are in good academic standing in grades 9-12 to be student managers for the team this fall. If you are interested in managing, email Coach Blaase by Friday May 18th at cblaase@nettlecreek.k12.in.us. If you have managed in the past, go ahead and email your interest for this year.
Peer Helper Applications—Any current 9th, 10th or 11th-grade student interested in being a peer helper next school year, please check your email for an application from Mrs. Van Meter.  If you have any questions, please see Mrs. Van Meter.
Physical Packet—Please pick up NEW 2018-2019 physical packets in the front office. Get these turned in before summer break to be ready for next school year. If you have a physical on file, it expires July 31st.
Lost and Found—Everything that was in the lost and found has been placed on tables outside of Mrs. Bowman's room. Please look for anything that might be yours, but be sure to ONLY take what belongs to you. Anything that has not been claimed by the end of the year will be taken to the thrift shop.
Dress Code—With warmer temperatures, please review the dress code on page 11—do not forget thumb length.
Senior Information:
Pictures need to be submitted for Senior Salute.
Athletic Results
Sectional Champions:  Boys Track
With a complete team effort, boys' track won the Connersville Sectional, claiming the first boys' track and field sectional title in HHS history.  The Tigers won six events and advanced eight athletes in eight events to the Franklin Regional on the wet and windy evening, edging runner-up Rushville by a single point.
The 4 x 800 team of Alexander McKee, Seth Richards, Kaleb Slagle, and Logan Tuttle set the tone for the evening, holding off a strong Rushville squad and dropping ten seconds off their season best time to claim that event.  A short time later, Slagle won the 1600, and as the meet progressed and the rain and wind set in, the Tigers earned sectional titles in the 300 hurdles, Robinson, the 800, Tuttle, and the shot put, Ryan Golliher. The Tigers then finished the evening in fine fashion and secured the narrow win as McKee and Tuttle teamed with Dylan Napier and Robinson to win the 4 x 400.
Coach Kent Gray provided commentary, "Obviously our big guns came through tonight winning six events, but what an effort by our seniors and young kids alike.  Seth Richards was amazing in the 4 x 800 and 300 hurdles, Blake Blevins came through big in the disc and shot. Gage James jumped well and then blasted his leg of the 4 x 100, made a great pass to Branton Payne, then two seniors, Krisition Bates, and Jalen Oliver took it home and finished above their seed.  Jaylon Favorite came out of the slow heat to place in the 400, and then Slagle and EB Halcomb went two, three in the 3200. Not all of the times and distances were great due to the weather, but I'm so proud of our boys and so appreciative of the great job coaches Tom Drake, Brandon Lester, and Betsy Swimm have done with their position groups. It was a great night."
Individual Results:
4 x 800 (1) McKee, Richards, Slagle, Tuttle 8:21.80 (PR)
110 H (5) Robinson 16.5
1600 (1) Slagle 4:44.94 (7) Halcomb 4:59.76
4 x 100 (4) James, Payne, Bates, Oliver 47.21 (PR)
400 (6) Napier 54.66 (8) Favorite 56.09
300 H (1) Robinson 40.59 (PR) (4) Richards 44.56 (PR)
800 (1) Tuttle 2:02.75  (4) McKee 2:12.67
3200 (2) Slagle 10:30.47   (3) Halcomb 10:31.53
4 x 400 (1) McKee, Tuttle, Napier, Robinson 3:34.20
High Jump (4) Napier 5-8
Long Jump (4) Jaems 19-6
Shot (1) Golliher 46-5 (4) Blevins 44-3
Disc (2) Golliher 136-4 (7) Blevins 123-8
Top Five Team Scores:
Hagerstown 122.5, Rushville 121.5, Richmond 81, Lincoln 70, Connersville 69
Lunch—Follow the link
http://nettlecreekschools.nutrislice.com/
Have a great day and weekend!
---