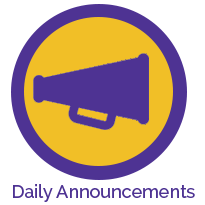 Announcements—Friday, May 11, 2018 Today is a Condensed Day.
Announcements—Friday, May 11, 2018
Today is a Condensed Day.
CONDENSED DAY   (Friday)
Admit Bell:  8:20
Block P1:    8:30-9:08
Block G1:   9:13-9:51
Block P2:    9:56-10:34
Block G2:   10:39-11:17
Block P3:    11:22-12:52
Lunch A      11:22-11:52
Lunch B      11:52-12:22
Lunch C      12:22-12:52
Block G3:   12:57-1:35
Block P4:    1:40-2:18
Block G4:   2:23-3:00
Girls Basketball—Any girls in grades 8-11 that are planning on going to camp this summer or the shoot-outs, there will be a parent meeting on MONDAY, MAY 14th, in the auxiliary gym at 7pm. If you or your parents cannot attend, please contact Coach Oliger for meeting details.  Please try and attend we will have important information on Team Camp and the summer schedule.
Football Call-Out Meeting—The football call-out/parent meeting that was scheduled for May 7 has been moved to NEXT MONDAY, May 14, at 6:30pm in the HHS Cafeteria.  Players can pick up their LETTER WRITING FUNDRAISER PACKETS from Coach Snodgrass any time this week.
Physical Packet—Please pick up NEW 2018-2019 physical packets in the front office. Get these turned in before summer break to be ready for next school year.
Lost and Found—Everything that was in the lost and found has been placed on tables outside of Mrs. Bowman's room. Please look for anything that might be yours, but be sure to ONLY take what belongs to you. Anything that has not been claimed by the end of the year will be taken to the thrift shop.
Library—The library will be restricted access all day today, Friday. Students may check in/out materials or work with an adult in the library, but passes to work in the library independently will not be issued or honored.
Dress Code—With warmer temperatures, please review the dress code on page 11—do not forget thumb length.
Senior Information:
Pictures need to be submitted for Senior Salute.
Athletic Results
Boys First, Girls Second at TEC Track Meet
The boys track team handily won the TEC meet on Thursday, outdistancing second place Knightstown by nearly 50 points, while the girls narrowly missed a conference title, falling short of Centerville by two points.  Overall both teams performed well, earning numerous individual titles, posting many personal best performances, and setting two meet records.  Camryn Bradway again won both hurdle races and anchored the winning 4 x100 relay along with teammates Abby Hill, Jessica Swimm, and Ashley Vinson.  Holden Robinson set a TEC meet record in the 300 hurdles with a time of 40.68, and fellow junior Logan Tuttle also set a TEC meet record, clocking 1:59.37 in the 800.  Other TEC champions for HHS included Abby Dale in high jump, Kaelynn Shultz in shot with a personal best performance, the boys 4 x 800 team of Alexander McKee, Seth Richards, Kaleb Slagle, and Tuttle, the boys 4 x 400 team of McKee, Tuttle, Dylan Napier and Robinson who ran an impressive 3:31.96, and Ryan Golliher in shot.
Lunch—Follow the link
http://nettlecreekschools.nutrislice.com/
Have a great day and weekend!
---