Announcements—Friday, January 26, 2018 Today is a Regular Tiger Day.
Announcements—Friday, January 26, 2018
Today is a Regular Tiger Day.
Vocational Open House—Please see the attachment at the end of the document regarding the New Castle Career Center Open House Thursday, February 1 from 6-8 PM for students and parents.  If you are interested in Building Trades, Broadcasting, EMT & Public Safety, Health Science Education or ICE Cooperative Education, please note that the location for the Open House is not at the Career Center.
Vocational Applications—These are due by February 1 to Mrs. Oliger. Please contact her with any questions.
Juniors & Seniors—Your transcript review sheets have been updated – please look at them to make sure everything is correct. Please let Mrs. Oliger know if you see any issues or have questions.
NHS Applications—Any current junior or senior that has a cumulative GPA of a 9 or higher has the opportunity to apply for membership into National Honor Society. Applications are now available in Mrs. Van Meter's room. With your application you must have two character references, only one can be a teacher the other must be someone not related to you who can tell us about you. Applications are due to Mrs. Van Meter no later than Friday, March 23 at 3:00pm. NO LATE APPLICATIONS WILL BE ACCEPTED! Any questions feel free to ask.
Application for Honors Classes—Students in grades 7-11 interested in applying for Honors classes for the 2018-2019 school year will need to pick up an application from the front office.  Packets will need to be completed and returned to the office.  They will be available from January 18-January 31.
Weight Lifting—Weight lifting for all 8th graders who will be on the freshman football team next year will begin on Monday next week.  Weights will be from 3:15-4:30 on Monday, Tuesday, and Thursday.
Oratorical Contest—The Hagerstown Optimist Club is hosting their annual Oratorical contest.  It will be on February 22nd at Lumpy's North restaurant at 7 pm.  The topic is "Where are my roots of Optimism."  The contest is open to anyone under the age of 18 as of October 1, 2017.  Indiana North pays $2500 in scholarships for male and female on the way to eventual $22, 500 scholarship at the International level in St. Louis.  For information and application contact Mrs. Oliger for an application.  Applications are due February 15.
Test Prep –Students, the school counseling office has purchased, using Lilly grant money, the test prep series on PLATO.  The test preps includes courses designed to help students on the following tests:
Accuplacer – Math, Reading, and Sentence Skills
ACT – English, Math, Reading, and Science Reasoning
ACT WorkKeys – all areas
ASVAB – all areas
SAT – Math, Reading, Writing and Language
If you need help on any of these tests, please email me what you would like to focus on and I can have Mr. Snodgrass set you up.  This is something that could be worked on during a study hall or BSD.  Please let Mrs. Oliger know if you have any questions.
Senior Information:
2018 Scholarships Awarded to a Student from a Wayne County High School
Selection by Wayne County Foundation's Scholarship Selection Committee
Online application available at
 https://waynecofdnscholars.communityforce.com/Login.aspx
January 19 through February 16
AND
IU EAST Scholarships!!!!!
PAY ATTENTION TO DEADLINES – MORE SCHOLARSHIPS TO COME
Athletic Results
Nothing to Report
Lunch—Follow the link
http://nettlecreekschools.nutrislice.com/
Good luck to all the students competing tonight and this weekend!
Have a great day and weekend!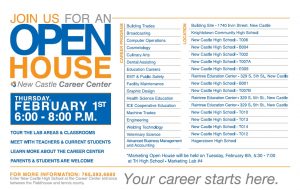 ---