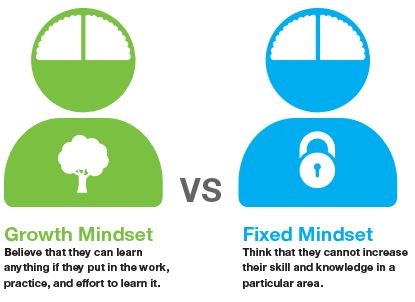 We Are Learning About Growth Mindset!
The school delay on the last scheduled Condensed Day threw a monkey wrench in our plans for K-12 teachers to meet together to hear an introduction to the concept of Growth Mindset. The seeds for Growth Mindset were planted by a few NCSC teachers who attended workshops on the concept, recognized that this might be useful for themselves and their students, brought it back to Hagerstown and have since incorporated it into the learning culture they maintain in their classrooms. Administrators noticed what was going on in these pioneer classrooms and came together as an administrative PLC to learn more about Growth Mindset.
After learning about Growth Mondset ourselves, we saw what the teachers saw – that students and staff would benefit from learning about Growth Mindset because it is based on research that rightly replaces preconceived notions that are wide-spread barriers to students reaching their highest potential. A NCSC group composed of those early teacher adopters and administrators has worked since last summer planning how we can provide everyone a chance to give their students the Growth Mindset Advantage. One of the first activities this group did was to survey all teachers about their knowledge of Growth Mindset and to determine what sort of mindset people here tend to work from now. In the most general terms, our staff is "somewhat familiar" with the term and generally accepts that intelligence is not a fixed attribute. From here we build!
Dr. Rhonda Roos who worked with administrators on Growth Mindset last year was scheduled to talk with all teachers at the last Condensed Day and has been rescheduled for February 2nd. And while all staff and students will have the opportunity to learn about Growth Mindset over time, we're enlarging this circle slowly, so that we can spread the word as effectively as possible. We send a hearty tip of the Tiger's tail to those early adopters and administrators for bringing this concept to NCSC for students!
---