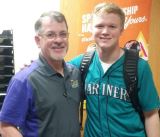 We receive several emails a week from parents, staff, community members, and often times students who have something to share! Sometimes they are suggestions for ways we can better serve students (Keep them coming!), and often they are bits of good news that they just want to share with someone (Keep them coming, too!).
This week's message came via Mr. Catey from the mom of one of our baseball players. It relates: I just wanted to take the time to tell you about one of your players that stuck out to me. Yesterday, my son was visibly upset when his coach pulled him off the field. As he was walking back to the dugout your batter on deck #5 shook his hand and told him to keep his head up. You really don't see that kind of sportsmanship very often, and I just wanted to reach out to you and tell you how great of a player you have on your team.
First, we'd like to recognize this parent for taking the time to share good news when she sees it! Second, we'd like to recognize Mr. Catey for running a program where things like one player spontaneously recognizes that a teammate has a need and then does something about it. And finally, we send a tip of the Tiger's tail to Mason Hicks for showing leadership and his fine character that caught this grateful parent's eye.
Time and again we see our students rise to the top in similar ways!
---