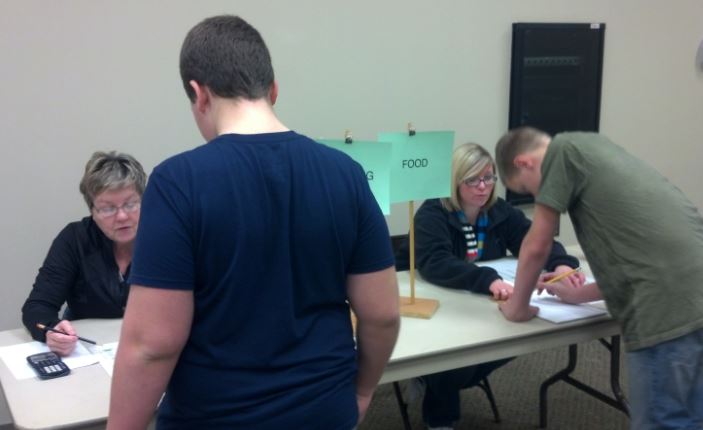 The Reality Store Returns!
Every year, parents and community members join together to provide Hagerstown Elementary School sixth-grade students an opportunity to get a glimpse of the decision-making that awaits them as adults. Ms. Ullery, our Communities In Schools coordinator at HES, sponsored this year's event and invited community volunteers to work with students as the children made "life decisions" regarding food, clothing, housing, transportation, insurance, etc. all which whittled away from the income created by careers that students chose at random. Children had the opportunity to donate to charity, acquire a pet and select travel and entertainment as funds allowed.
Students who initially chose sports cars for transportation had to reluctantly trade them in for minivans when they became parents and children began to arrive. At least one of those students ended up trading in the minivan and chose to take the bus when finances ran short before he had visited all of the stations set up in the school LGI Room. Thank you, Ms. Ullery, and we send a tip of the Tiger's tail to all of the volunteers for generously spend-ing their time supporting our students in this fun and eye-opening way! Our Purple & Gold Volunteers are:
Joe & Mindy Smith, Jackie Woolard, Cindy Oler, Jaime Rector, Andy Floyd, Becky Cool, Laura Swain, Chris-tina Neuman, Sondra Glunt, Karen & Phil Ferriell, Nancy Williamson, Shannon Turner, Camela Schmitz, Sara Tipton, Brittany Lawson, Jana Murray, Nancy Doerstler, Barry Ritter, Alan Shedd, Cindy Neal, Kent Hollenberg, Mike Lieberman, Jorgena Watson, Donna Winters, and Connie Rhodus.
---