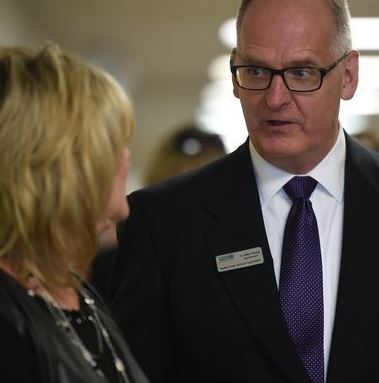 The End Of Another Very Successful School Year!
How do you celebrate the end of a school year?  At the high school they will celebrate in many ways including the capstone experience of commencement.  At HES after tearful good-byes in the classroom, teachers will line the sidewalks outdoors with black and white checkered flags.  To each of you, THANK YOU for a very successful school year.  Everyone plays a unique role, and each of you is sincerely appreciated!   Have a wonderful summer, and we'll see you in August.  Let's close out this year's staff newsletters with a portion of an email I received from Jefferson Township Trustee Mr. Joe Smith after he and a few community members spent the day hosting tours of the Hagerstown Museum for elementary and HJr./Sr.H students:
"Many from my generation including me have made statements expressing concerns with present day youth. Our frustrations are often expressed as, "Kids these days – What will they do when they arrive in the real world?"
Last week those concerns were put to rest as Jim Reed, Roger Luce, Roger Esker, and I had the privilege (Mr. Smith's emphasis) of conducting tours for a large portion of our local high school students.  To top that off, on Thursday many of us were treated to local history lessons from Mrs. Doerstler's third graders.
As we (my generation), shared observations on our thoughts of the tours and presentations, we all agreed on two things. 1. The students were kind, courteous, and thankful.  2. The teachers and helpers were kind, courteous, and thankful.  We are extremely pleased with the questions and comments.  We were extremely pleased with the organization.  We were extremely pleased with the compassion shown to Jim by both students and teachers when Jim experienced a health issue.  There was no anxiety shown but calm rerouting of plans.  As third graders were in the museum at the time, Mrs. Doerstler and Mr. Craig jointly agreed the high school students would listen to the reports from the third graders.  Again, the kind, courteous, and thankful attitudes were on display as different age groups mingled.  Mr. Blaase was so helpful in bringing expertise to an otherwise questionable situation.  After Jim's recuperation within the hour, he was ready and eager to share some more of the local history.  Having kind, courteous, and thankful students and teachers contributed toward Jim's insistence on continuing.
"Kids these days – what will they do when they arrive in the real world?" They arrived in the "real world" last week in the Hagerstown Museum and Arts Place.
They will do just fine!"
Thank you, Mr. Smith, for your kind words!
Yours for another successful YEAR with students!
Bill Doering, Ph.D.
---