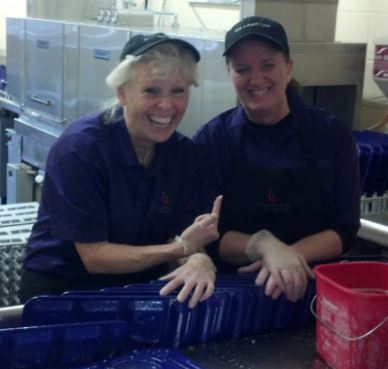 Dr. Doering Lends A Hand And Learns Along The Way!
I suppose everyone gets to a point when they just need a break! This past week had one of those times for me. When I feel the need to get away from my desk I'll tour either of the schools (or both if I really need a break) just to remind myself that it is in the buildings where the action is. Nine out of ten times I end up grabbing a rag and helping clean cafeteria tables because there is never too much help in the cafeteria at lunch time.
This past week, I stopped in the Jr./Sr. high lunchroom to see if I could lend a hand, and they mentioned Ms. Dale was absent, and maybe Ms. Black could use another set of hands. Ms. Black graciously accepted my offer and ran me through the procedures of preparing lunch trays for the dishwasher in the dish room. It was an honor to wear that Chartwells apron as one of the team, and I am sending a tip of the Tiger's tail to Ms. Black for her easy-going nature and sense of humor and to all of the ladies in the Jr./Sr. high cafeteria for their patience.
As usual, the ladies taught me a few things: 1)they have their food service system down to a science, 2)they are 100% dedicated to serving students in their own special way, and 3) you'd better be a Buckeye fan especially after a win over Michigan.
Thank you, Ladies! You are one in a million!
---