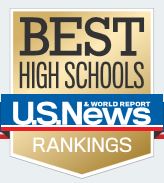 Congratulations Jr./Sr. High!
For the second year in a row Hagerstown Jr./Sr. High School has been included by U.S. News & World Report on its 2018 ranking of Best High Schools at the Bronze Level. We send a tip of the Tiger's tail to the Jr./SR. high staff and students for this accom-plishment. Less than 30% of the schools earned the right to be called a Best High School.
Schools earn recognition when their underserved students perform better than the state average, the school's graduation rate meets or exceeds a threshold, and students are prepared for college-level coursework. U.S. News badges are widely recognized as symbols of excellence in education. Other high school data this year shows that 29% of our students plan to pursue a Science, Technology, Engineering or Math (STEM) career; 17.8% will be the first in their families to attend college; and 91.4% plan to attend a four-year institution.
---