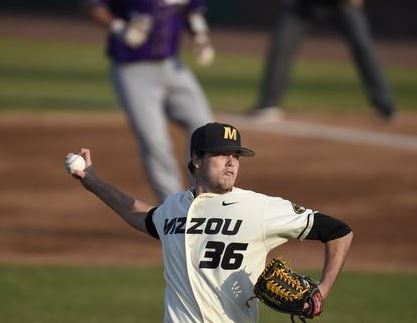 Cole Bartlett (HHS Class of '13) Drafted By Arizona Diamondbacks!
Great news from the HHS Alumni sports world this morning! HHS grad and son of Mrs. Bartlett, Cole Bartlett, was drafted by a Major League team yesterday.  He is the 2nd HHS baseball player to have this honor!
An excerpt from the Richmond Palladium-Item states: "With the 742nd overall pick in the 2017 Major League Baseball draft, the Arizona Diamondbacks selected Cole Bartlett, a redshirt junior from the University of Missouri and a 2013 graduate of Hagerstown High School in Indiana.
"I was for sure excited," Bartlett told the Palladium-Item by phone. "It's something I've always dreamed about and getting the opportunity to get to do it is unbelievable."
Bartlett said his family didn't do anything special, other than hang out at the house.
When an area scout called asking if Bartlett had been watching the draft, he wasn't.
"Well we've drafted you," Bartlett heard in the phone call.
"It was a definite cool moment," Bartlett said. "My mom was watching it on the computer, she came running out as soon as I got the phone call."
Bartlett is the second graduate of Hagerstown High School to be drafted in the MLB draft.
Chris Jarrett, a 2006 Hagerstown graduate, went on to play at Anderson University, a Division III program, and was selected by the Diamondbacks in the 42nd round of the 2010 draft."
Congratulations Cole!
---