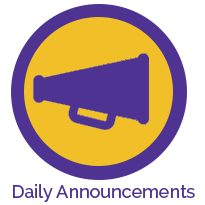 Announcements—Wednesday, December 13, 2017
Announcements—Wednesday, December 13, 2017
Today is a Purple Day.
BPA—Final BPA meeting of the year! Dec. 14, Thursday, in room 107. RLC results and event booklets available for review. Overview of second semester.
NHS—NHS members dues need to be paid by this Friday!! Please see Mrs. Van Meter.
Festive Friday—Hello Tigers!  Friday December 15th is NATIONAL UGLY CHRISTMAS SWEATER/CLOTHING DAY…. We have been eagerly waiting for this wonderful day to finally be here so all of everyone and their brother can dress in our favorite Christmas Attire and Deck our Halls with an Awesome Dress up day!
Friday December 15 is officially Hagerstown Christmas Dress up day!!!
All school Dress code rules apply though so be sure to keep your deer antlers and Santa hats in your backpacks.
Lets have a great Festive Friday and celebrate our last Friday before Christmas Break!  HO HO HO!!!!
Helmet Sale—See end of announcements.
Jr. High Swim Call Out—A call out meeting for the boys and girls Jr. High Swim Team will take place this TOMORROW, Thursday, December 14th in the High School cafeteria at 6:00PM. Any 6th, 7th or 8th grader interested in joining the Jr. High Swim team needs to attend this important meeting. 
Dance—There will be a Jr/Sr high school dance Friday, Dec. 15th after the girls and boys varsity basketball game in the auxiliary gym. The dance will start approx. at 9:00 pm and end at 11:00pm. Cost is $5.
Dance Request—If you plan to have someone attend a dance from another school, the form MUST be submitted to the front office for approval by Wednesday at 3:00 pm prior to the dance.
If you brought a guest to Snowball and want to bring the guest to this Friday's dance, a new form needs to be submitted.
Canned Food Drive—It's that time of year again! Your NHS chapter is conducting their annual canned food drive. It will happen the week of December 11th- December 15th. Bring your items to Mrs. Van Meter's room in the mornings. If we get a decent amount of participating, there will be a special opportunity for students on Friday, Dec. 15th.  We will also be collecting cans Friday, Dec. 15th at the boys and girls basketball game. Please think about helping the families in our community!
Students – please look at your next semester schedule to make sure you have a class for each block and that no blocks are empty.  If you have an empty block, please email Mrs. Oliger or Mrs. Sewell and one of them will see what your options are.  At this time, we will not be making schedule changes unless it is teacher requested.
Vocational Applications—The vocational applications are ready for you to pick them up in the front office. They are light purple in color and you must use this packet. Please know that they will be due back to me no later than February 9. The vocational teachers will begin interviewing once they have your completed application after winter break.
Senior Information:
Please continue to watch the guidance website for updates.
Athletic Results
Varsity Swimming
Last night Hagerstown Swimming lost against Oxford Talawanda and Cincinnati Madeira High Schools.
Girls score: 80 Hagerstown and 92 For Cincinnati Madeira and Oxford Talawanda 135
Boys score: 52 Hagerstown and 81 for Cincinnati Madeira and 158 Oxford Talawanda
Scoring for Hagerstown:
Girls 200 Freestyle: 4th place Paige Stuart, and 6th place Taylor Rector
Boys 200 Freestyle: 4th place Kyle Cochran and 5th place Ian Taylor
Girls 200 IM: 3rd place Sydney Retter, 4th place Kristin McFarland
Boys 200 IM: 2nd place Ben Reagan, 5th place Andrew Turner
Girls 50 Free: 6th place Mallory Bledsoe, 7th place Abby Hill
Boys 50 Free: 5th place James Cochran, 6th place Noah James
Girls Diving: 1st place Kortney Ridge
Girls 100 Butterfly: 3rd place Mallory Bledsoe, 4th place Kristin McFarland, 5th place Maci Matanich
Boys 100 Butterfly: 4th place Ben Reagan, 7th place Ian Taylor
Girls 100 Freestyle: 1st place Sydney Retter, 6th place Ella Nicholson, 7th place Brooklynn LaMar
Boys 100 Freestyle: 6th place Kyle Cochran, 7th place Noah James
Girls 500 Freestyle: 4th place Paige Stuart, 6th place Taylor Rector, 7th place Kayla Morris
Boys 500 Freestyle: 2nd place Tyler Wilson
Girls 200 Freestyle Relay: 3rd place team of Ella Nicholson, Brooklynn LaMar, Sydney Retter, Mallory Bledsoe
Girls 100 Backstroke: 4th place Meghan Callahan, 6th place Stefani Burns
Boys 100 Backstroke: 3rd place Andrew Turner, 4th place James Cochran
Girls 100 Breaststroke: 4th place Gwen Cox, 6th place Marissa Combs, 7th place Sonja Shafer
Boys 100 Breaststroke: 5th place Tyler Wilson
Girls 400 Freestyle Relay: 2nd place team of Abby Hill, Kristin McFarland, Brooklynn LaMar, Sydney Retter and 3rd place team of Paige Stuart, Sydney Rector, Marissa Combs, and Maci Matanich
Boys 400 Freestyle Relay: 2nd place team of Kyle Cochran, Ian Taylor, Tyler Wilson, and Andrew Turner
Tigersharks are back in action on Friday and Saturday at the Connersville Invitational. Good luck to all!
Lunch—Follow the link
http://nettlecreekschools.nutrislice.com/
Have a great day!
---