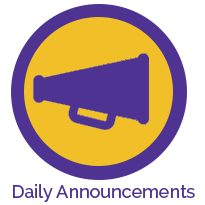 Announcements—Monday, December 11, 2017
Announcements—Monday, December 11, 2017
Today is a Purple Day.
BPA—Congratulations to the BPA members who competed on Saturday.  The following is a list of winners called to the stage and those with an asterisk advanced to the State Leadership Conference in March:
Justin Austerman-5th Fundamental Spreadsheet*
Haley Baker-3rd Advanced Interview Skills*
Chloe Beaty-8th Personal Financial Management
Blake Blevins-5th Extemporaneous Speech
Cassidy Federico-1st Business Law & Ethics*
Cassidy Federico-5th Payroll Accounting*
Austin Herr-5th Integrated Office Applications*
Haylie Jones-5th Interview Skills
Seth Richards-4th Advanced Spreadsheet*
Seth Richards-7th Database Applications
Holden Robinson-1st Entrepreneurship*
Holden Robinson-3rd Extemporaneous Speech*
Kaleb Slagle-1st Database Applications*
Kaleb Slagle-3rd Interview Skills*
Kennedy Sutherland-2nd Business Law & Ethics*
Kennedy Sutherland-9th Personal Financial Management
Parliamentary Procedures Team—2nd Place*
Blake Blevins
Megan Craig
Austin Herr
McKenzie Slagle
Sierra Searcy
Video Production Team—2nd Pace*
Jack Linderman
Carson Orr
Eli Richards
Festive Friday—Hello Tigers!  Friday December 15th is NATIONAL UGLY CHRISTMAS SWEATER/CLOTHING DAY…. We have been eagerly waiting for this wonderful day to finally be here so all of everyone and their brother can dress in our favorite Christmas Attire and Deck our Halls with an Awesome Dress up day!
Friday December 15 is officially Hagerstown Christmas Dress up day!!!
All school Dress code rules apply though so be sure to keep your deer antlers and Santa hats in your backpacks.
Lets have a great Festive Friday and celebrate our last Friday before Christmas Break!  HO HO HO!!!!
Helmet Sale—See end of announcements.
Jr. High Swim Call Out—A call out meeting for the boys and girls Jr. High Swim Team will take place this Thursday, December 14th in the High School cafeteria at 6:00PM. Any 6th, 7th or 8th grader interested in joining the Jr. High Swim team needs to attend this important meeting. 
Dance—There will be a Jr/Sr high school dance Friday, Dec. 15th after the girls and boys varsity basketball game in the auxiliary gym. The dance will start approx. at 9:00pm and end at 11:00pm. Cost is $5.
Dance Request—If you plan to have someone attend a dance from another school, the form MUST be submitted to the front office for approval by Wednesday at 3:00 pm prior to the dance.
If you brought a guest to Snowball and want to bring the guest to this Friday's dance, a new form needs to be submitted.
Canned Food Drive—It's that time of year again! Your NHS chapter is conducting their annual canned food drive. It will happen the week of December 11th- December 15th. Bring your items to Mrs. Van Meter's room in the mornings. If we get a decent amount of participating, there will be a special opportunity for students on Friday, Dec. 15th.  We will also be collecting cans Friday, Dec. 15th at the boys and girls basketball game. Please think about helping the families in our community!
Students – please look at your next semester schedule to make sure you have a class for each block and that no blocks are empty.  If you have an empty block, please email Mrs. Oliger or Mrs. Sewell and one of them will see what your options are.  At this time, we will not be making schedule changes unless it is teacher requested.
Vocational Applications—The vocational applications are ready for you to pick them up in the front office. They are light purple in color and you must use this packet. Please know that they will be due back to me no later than February 9. The vocational teachers will begin interviewing once they have your completed application after winter break.
Senior Information:
Please continue to watch the guidance website for updates.
Athletic Results
Nothing to report
Lunch—Follow the link
http://nettlecreekschools.nutrislice.com/
Have a great day!
---